When did anasazi move into canyons and cliffs(anasazi disappearance)
anasazi mysteries
It hadn't been such a

peaceful place

after all. . .
Sand Castle Sand: The tale of castles built of sand...
If you've ever taken a Mesa Verde tour, visited a Southwestern Museum, read or been lectured to by any expert—you've heard this story…
"The ancient Anasazi were a peaceful noble people living harmoniously in their cliff dwellings and villages"
Okay. Fine.
And why did every single village, every vestige of society, possibly tens of thousands inhabitants in an area of more than 20,000 square miles, abruptly abandon what had been their home for centuries, leaving behind immense stone cities and towns—never to return.
The experts carefully stick to these talking points…
"Beginning in A.D. 1276, a 23 year drought struck the region. The only escape for the Ancient Puebloans was to seek regions which had a more dependable water supply."
But other evidence has been gathering and has reached a critical mass that new breeds of Archeologist no longer wish to conceal.
"Experts have sanitized the history of Anasazi abandonment, and ignored evidence of violence" says Wendy Bustard, museum coordinator for the Chaco Culture National Historic Park in New Mexico. "I think that our interpretations of the Pueblo peoples as peaceful people came out of the 1960s, when we as a people were looking for examples of peace."
There's been another reason to maintain this tranquil prehistoric picture. After decades of strained relations, Mesa Verde archaeologists finally began building tentative relationships with Native American communities in the 1990s. It would not be a good peace offering to announce—
these people's ancestors were warring,
or worse yet,
near the time of abandonment they executed atrocities including canibalism
Using powerful new science and old-fashioned detective work, archaeologists are creating a more complex and subtle picture of the ancestral Pueblo people at the time of abandonment. Of course nowadays archaeologists, such as Kristin Kuckelman of the Crow Canyon Archaeological center know that the Anasazi didn't simply vanish. Instead they became the modern-day Pueblo people of New Mexico and Arizona. -- but she also recognizes that behind this misunderstanding lies a true mystery, one that plagues both learned archaeologists and amateur explorers - The Mystery of the Anasazi. [Digging Deep, by Joel Warner. Colorado Springs Independent 2006] [Notes]

Something had wiped out a wide swath of villagers at places such as Castle Rock and Sand Canyon Pueblo,

something terrible…
Chptr 1: The Old Ones
(Glimpse into the abandonment)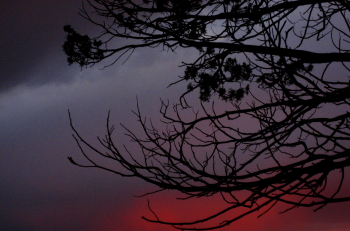 Dawa was ready to change his mind. This was a mistake. Turning his head in a slow arc, he studied the terrain under the scant light of a head lamp. He'd lost the trail and been forced to back-track a few steps.

It shouldn't be this hard. A child could follow a path lined on both sides by square stone.

Well, perhaps not in uneven desert terrain on a moonless, inky black, October night.
A sudden breeze shot through the twisted dark outlines of menacingly poised junipers and somewhere rattled dry sumac leaves clinging in autumn's last breath. The powerful gust momentarily halted the droning of some nocturnal insect and shocked the mesa top into abrupt silence. Dawa concentrated to discover where he'd mis-stepped. The trail had ended near a four foot rise of cedar mesa sandstone which appeared colorless and blotchy beneath his artificial light. In two quick steps he was atop the small ridge with the thought to gain a better vantage from which to search. It turned out to be unnecessary. The trail continued immediately beneath his feet.

It felt good to glide along the next clear stretch of the trail without having to concentrate so hard and to put some easy distance behind him. His pace was fast, perhaps too fast for the hour. But he was anxious to end this trek. Besides, the exertion warmed him against the late season's chill air. As he hiked, his mind filled in the missing color of the red clay beneath his feet.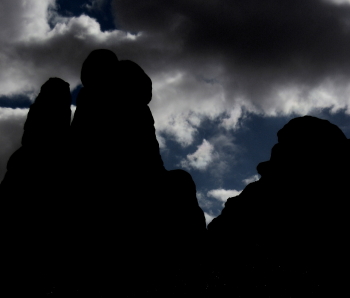 Upon rounding a slight rise, he halted. Another of the rectangular blocks that outlined the trail was missing. Its absence was conspicuous due the imprint left behind—a four-sided depression of moist red loam in an otherwise bone dry terrain.
Dawa bent down on one knee and touched the hollow left by the missing rock. Even in the dark, dampness told a story. Desert air dries exposed soil. This block couldn't have been missing for more than a few hours. Since he was certainly alone out here, its absence was disturbing to say the least. He pinched moist grains of red silt from the depression. Fine clay filled and discolored his pores. He rolled the grit between finger and thumb while mulling the significance of this offering.
The lower branches of a piñón tree leapt out and raked his face in a sudden gust of wind. Dawa's heart jumped. He peered deeply into the black woods. Darkness consumed the mesa top forest concealing everything outside the ten foot circle illuminated by his battery powered lamp. Was something else moving in the gust besides piñón branches and squaw bush? The weight of so much unseen pressed in on him.


The stones used to outline this desert trail had been pilfered from tumbled walls and collapsed rooms of the adjacent surface dwelling, long since overgrown and camouflaged by time. Dawa ran his hand across the surface of the stone adjacent to the one that was missing. This block had been shaped with tremendous effort. A myriad of small dimples remained from the impact of some obsidian hammer wielded centuries ago. Some long dead and forgotten man had labored for hours squaring this stone, and it was just one of thousands constructed for defensive walls, dwellings, or perhaps a kiva—an enormous investment that proclaimed, "Here we shall make our stand." But now after nearly a millennium of abandonment, these painstakingly carved stones from the once massive pueblo lay as rubble around Dawa in shadowy heaps.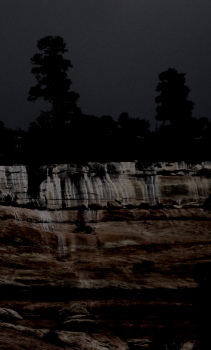 Even in the limited cast of his light, Dawa could make out several circular craters just off the trail. These easily blended into the landscape and might have been dismissed as the natural geology of the rugged terrain. The shallow depressions in the soil gave no hint of the caved in walls that had formed them, no hint apart from scores of protruding stone. Dawa knew an even larger number of blocks lay beneath the surface locked into original walls by ancient mortar and still plastered with decorative art; buried along with human remains and the dark secrets. Sand Canyon Pueblo had been covered under centuries of desert soil compacted by the weight of time. There was little left to tell of the people who'd made an uncertain home near the edge of their world.

They'd stayed too long.
To Dawa, it was a sin that the tumbled stones had been displaced merely to form a trail, even though he now relied on their line to make his way in the darkness. He lifted his hand from the cold block recanting Navajo warnings;
Spirits forever linger at the sites of their ancient home.

That would be especially true here, he mused. Dawa reflected on what a Moquis guide had told Hayden about this place during an 1874 survey, back when the Indians still shared stories passed down to them, "...the hollows of the rocks had been filled to the brim with mingled blood…"

Dawa was expecting something. Of what he couldn't be sure. It's why he'd come. But nothing physical, nothing that could displace material rock. Dawa shook his head. Missing stones could mean anything, he told himself.

Still, he didn't like the feel of it.
Tonight's enterprise was assuming new dimensions in the silhouetted woodland of black and ghoulish juniper, where cold air rushed past him to plunge down sheer cliffs; cliffs that Dawa could not see, but knew were there. Cloaked in darkness, mere yards from where he crouched; he could feel the perilous overhangs. This venture may have seemed like a good idea in warm daylight. But now the nearness of secretive night sounds, chill air, and deep shadows were loosening his resolve.
Dawa attempted to restore the enthusiasm he'd felt earlier today. In the slant warm autumn light, he'd left his vehicle at an eroded pullout next to a remote and rutted dirt road and marched off to survey this site. The pueblo had been built just below the mesa rim to surround a coveted water source.

No one owns the water; the words of a Kalis elder had echoed in his mind. But perhaps that wisdom came later, Dawa thought, after prior sins had been atoned for.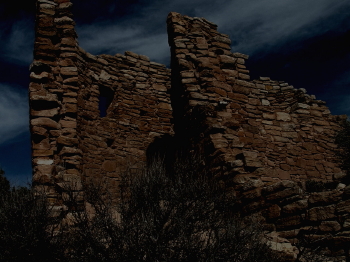 Few surface clues remained of this worried stronghold. But Dawa had studied its layout from a field survey and limited pit excavations performed in the nineties. He knew that defensive walls had been built on the north side of the pueblo, the side that lay vulnerable to the flat mesa top. Tall towers were constructed at the east end from which lookouts could warn the occupants of the pueblo. Now, the towers were rubble. Rocks walls mortared with mud stand no chance against centuries of exposure. To the south, the cliffs of the canyon's rim finished the strategy of providing a sense of false security for the village.

Something had changed. For centuries these people had built openly on the mesa tops. What hell had visited them at the northern edge of their world?
During his daylight hike, Dawa had scrambled, climbed and bruised his knees through the uneven terrain of the interior pueblo. Mounds from ancient rooms were overgrown, barricaded by wooden trunks of fallen timber. This area had once been level. The roofs of sub-terrain kivas had formed a flat and spacious plaza noisy with children, grinding of corn, and clinking sounds as the men napped flakes from chert to from tools. Sacred rituals being held in the kivas below had drummed from the earth in muted echoes. Thumping sounds had returned to echo in this place today, but this time from Dawa's boots as he stumbled over obstacles to find footing.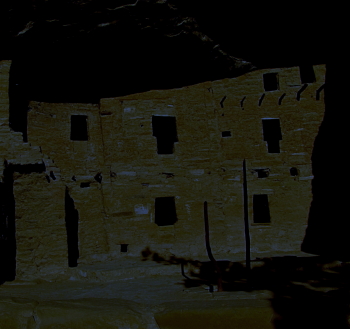 Dawa had rounded the ancient village to the west where he knew the Great Kiva would be situated. Next to the place where the outer wall would have been located, he found what looked like the crater of a miniature volcano. This was it. In a quick survey of the area inside the depression, Dawa spotted a soft bed of brown juniper needles and green moss. It was illuminated by warm sunlight streaking through an opening in the trees. That gentle sunbathed circle of light glimmering in the shadows felt like an invitation to Dawa, and a confirmation. As if to say, this is where he should throw out a bed roll for the night. On the walk back to the vehicle, Dawa memorized the path he would need to follow in the dark.
But now, tonight, wandering the world of darkness to return to that destination, Dawa was quite certain he'd been out of his mind.

His conviction was waning. As far as he was concerned, each next step would be the last before turning and high tailing it to the security of his vehicle, where a simple twist of the ignition key would have him bouncing away, back to his modern coal and oil powered world.

In his lamplight he found yet another stone missing from the trail's side. But this time he ignored it since he was nearing the pueblo's west perimeter—where the Great Kiva waited.
No way, thought Dawa as he looked down on the now sinister bed of needles and moss he'd planned to spend the night upon.

Hesitantly, Dawa un-shouldered his pack containing a sleeping bag and pad and let it drop to the ground, deciding instead to sit for a spell as a compromise. He lowered himself to the cold ground and looked up at a sky ablaze with stars, partially blocked by the juniper branches above. He could make out two of the pointing stars in the constellations Aquia and Lyra. The Northern Cross damned the stream of the Milky Way, and Rigel winked at him coldly.

Dead still now, nothing moved. The breeze had stopped. Dawa zipped his billowy down jacket up to his chin then stuffed his hands deep into the coat's insulated pockets. He respected the pueblo's silence and was careful not to disturb it. But he wasn't about to turn his head lamp off. Dawa constantly scanned the area in front of him for anything other than stillness in the woods, attempting to console himself with what could be seen. His backside felt vulnerable. Any manner of harm could approach from behind out of the black. Dawa suddenly imagined the blunt blow of a stone ax crashing down on the tender shell of his crown, cruelty and hurt lingering from a horrible episode eight centuries past.
Dawa turned quickly to make sure nothing was there.

Nothing was there.

But his rustling movement had disturbed the quite. Another sin.
Dawa turned slowly back to face the depression that had once been the center of a Great Kiva, and told himself to breath. He wasn't here for wild imaginings. There's nothing to fear, he reminded himself. He was here to explore a deep calling that had led him to this place. Therefore, he'd be safe. Of that his heart seemed certain. However, he was concerned about what might exist in the realm of possibilities. He decided then and there he didn't want any part of anything supernatural. Thanks all the same.
Dawa drew his feet into an easy sitting pose, and stopped looking through his open eyes. There is more to the story he whispered inwardly and relaxed into his breath.
He knew what he was supposed to say, and he also knew it must be said out loud where they would hear it, supposing they existed. But he could not bring himself to contaminate the silence of the cedar mesa with a human voice.

Perhaps it could wait.
Twenty minutes passed and Dawa slowly reassembled some sense of balance, a tenuous ease.

"Grandfathers, grandmothers, please forgive any offense from my intrusion." Dawa's voice sounded sacrilegious inside the sanctity of the ancient village as he spoke aloud what the Navajo said one should say. He felt a bit silly, but also decided he felt a bit better. He muttered one more thing, "Anyway, you invited me." That felt clumsy and inappropriate. His next offense he supposed.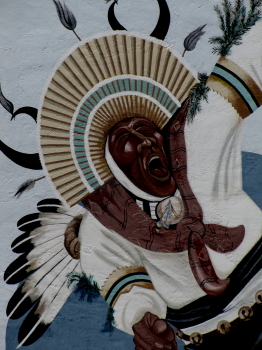 After an hour Dawa retrieved the sleeping pad from his pack and started inflating it. He laid it out on the bed of juniper needles followed by his sleeping bag. But he did not take off his garments. Not even his down coat. Only his hiking boots did he remove before climbing into the sleeping bag, and those he splayed wide open so he could jump in them and run like hell—if the need arose.
Before switching of his headlamp and zipping himself into his bag he reached over and turned the boots upside down. Didn't want any nasty surprises crawling in.
Only Dawa's forehead and eyes remained exposed to the night and the stars from within his mummy bag. Setting aside any of his previous ambitions, at this point, he merely hoped he could slip through the night unnoticed.

Dawa was amazed how well he was able to see on this moonless night, with only starlight to illuminate the area around him. He could make out the stone perimeter of the ruined kiva. Large square stones heaped around him brooding and overbearing. He knew below him, protected and buried, the remaining round kiva walls retained their shape even after all this time, and of course, something else. Something the clan that built this hallowed structure hadn't seen coming.
He heard the snapping of a branch from off to the left and froze. In a hundred other nights sleeping in the wilderness this would have gone unnoticed. But in this place Dawa allowed himself a million thoughts, wild thoughts. A second crack sounded from above his head.
Be damned, Dawa thought, and from then on forced himself to ignore the natural sounds of a forest, alive with nocturnals.

He couldn't have been more mistaken.
It was the greatest of surprises to Dawa when he awoke. He didn't recall falling asleep.

But something was wrong. After a full night's sleep, the stars still shone, it was still the dark of night, but not the same.

The stars were different.


Sand Castle Sand:

---
How do you know what's Real?
ROAD SIGNS by Jay Archer David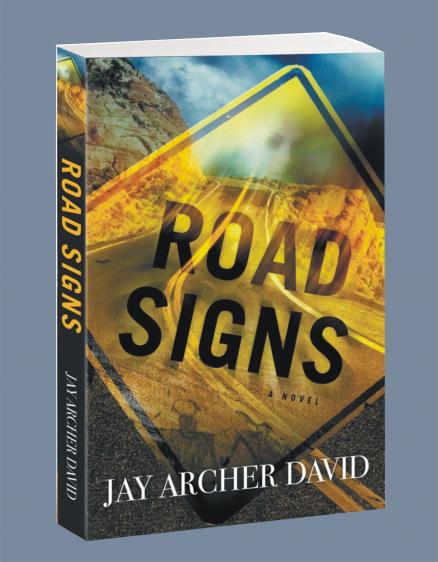 After a near-fatal climbing accident, David tries to return home–But the Road is no longer what it seems.

The stark beauty of Canyonlands, followed by the desolation of the Mexican Sonoran desert, become the setting for an inner and outer journey—on a mysterious road that connects people, desire, places, and time.

- read:1st Chapters - visit: ROAD SIGNS webpage - purchase: Road Signs
---
Comments
---
Notes: (Where did the Anasazi go)
When did anasazi move into canyons and cliffs, Why did the anasazi leave chaco canyon, Anasazi cliff dwellings, Anasazi disappearance, The mystery of the anasazi
(Sand Canyon Pueblo Massacre? Castle Rock Pueblo Massacre?)
-- Turner said he'd found proof of 38 cases of cannibalism in the prehistoric American Southwest.
It looked like it hadn't been such a peaceful place after all.
They uncovered coprolite -- a piece of human excrement -- deposited flagrantly within a hearth. Richard Marlar, at the time an associate professor of pathology at the University of Colorado Health Sciences Center, analyzed the coprolite and found evidence of human myoglobin, a muscle protein. Myoglobin isn't found in the intestinal tract unless it gets there as a meal
What had led to these extreme activities? Was it the work of psychopathic death cults, as suggested by Turner and others? And furthermore, every example of possible cannibalism uncovered thus far had occurred before the thirteenth century. What, if anything, could these macabre incidents have had to do with the Mesa Verde region's mysterious depopulation a century later?
Crow Canyon crews had discovered bones scarred with cutting and anvil marks, marrow-rich bones splintered, skulls that had been heated and cracked open, and bone fragments with polishing at their tips. While there was no telltale coprolite, Dr. Kuckelman argued that there were enough similarities to link these remains to Turner's findings and those at Cowboy Wash -- essentially connecting Castle Rock with direct evidence of cannibalism.
What's far more important is how the developing themes of cannibalism, hostility and warfare create a much more complex and tumultuous picture of the waning years of the ancestral Pueblo people, a picture that could help solve the puzzle of why they left.
Kuckelman sees the ones who didn't get out in time, those who couldn't bear to leave, eating the last of the maize, maybe waiting for the first shadows of attackers to come over the hill. "What was it like?" she asks. "What made them tick? Why did this whole world work as long as it did, and then what happened to make it all go wrong
Kuckelman's explanation begins in the mid-thirteenth century, a time when the Mesa Verde region was in the midst of population growth like never before. People were flowing into the area, lulled by good weather and fertile fields. But there was only so much of the land's single most valuable resource: water. Communities coalesced around precious water supplies, such as the seep spring at Goodman Point Pueblo. Then the weather turned bad, and the region balkanized. Villages turned jealous eyes on their neighbors' resources, protectively hoarding their own crops and streams. Communities became fortresses built into cliff walls at Mesa Verde and around outcroppings at Castle Rock. By the time the rains stopped, in 1276, as fields withered and children starved, people had turned to violence, raiding the stores of other villages, defending their remaining food with their lives. To frighten their enemies, they may have resorted to desperate, macabre measures learned from other people in other times, measures like cannibalism. Fertile lands still existed nearby, lands for which families might have pulled up stakes and relocated in lean times past. But now the area was too crowded, communities were too sedentary and interconnected, there was too much danger in the land. As the century drew to a close, the only choice was to begin leaving the region, traveling as families, as villages, to the south. Those who were left behind found themselves in a world too fragmented, too depopulated, to continue the old ways, the religious rituals and kinship systems; they'd reached a point of no return. Soon they were gone, too, moving across the desert, looking for someplace they could start fresh.
Oral Tradition history of Anasazi Abandoment. Legendary stories given by an old man among the Moquis concerning some ruins in the canyon of the McElmo
Illustration of Battle Rock, McElmo Canyon.----------[Rendered by Ingersoll, in N.Y. Tribune, Nov. 3, 1874.]
The story is as follows: "Formerly the aborigines inhabited all
this country as far east as the headwaters of the San Juan, as
far north as the Rio Dolores, west some distance into Utah, and
south and south-west throughout Arizona, and on down into
Mexico. They had lived there from time immemorial, since the
earth was a small island, which augmented as its inhabitants
multiplied. They cultivated the valley, fashioned whatever
utensils and tools they needed very neatly and handsomely out of
clay, and wood, and stone, not knowing any of the useful metals;
built their homes and kept their flocks and herds in the fertile
river bottoms, and worshiped the sun. They were an eminently
peaceful and prosperous people, living by agriculture rather
than by the chase. About a thousand years ago, however, they
were visited by savage strangers from the north, whom they
treated hospitably. Soon these visits became more frequent and
annoying. Then their troublesome neighbors, ancestors of the
present Utes, began to forage upon them, and at last to massacre
them and devastate their farms. So, to save their lives at
least, they built houses high up on the cliffs, where they could
store food and hide away until the raiders left.

"But one Summer the invaders did not go back to their mountains,
as the people expected, but brought their families with them and
settled down. So, driven from their homes and lands, starving in
their little niches on the high cites they could only steal away
during the night and wander across the cheerless uplands. To one
who has traveled these steppes such a flight seems terrible, and
the mind hesitates to picture the sufferings of the sad
fugitives. At the 'Creston' (name of the ruin) they halted, and
probably found friends, for the rocks and caves are full of the
nests of these human wrens and swallows. Here they collected,
erected stone fortifications and watch-towers, dug reservoirs in
the rocks to hold a supply of water, which in all cases is
precarious in this latitude, and once more stood at bay.
Their foes came, and for one long month fought, and were beaten
back, and returned day after day to the attack as merciless and
inevitable as the tide. Meanwhile the families of the defenders
were evacuating and moving south, and bravely did their
defenders shield them till they were all safely a hundred
miles away.

"The besiegers were beaten back and went away. But the narrative
tells us that the hollows of the rocks were filled to the brim
with the mingled blood of conquerors and, conquered, and red
veins of it ran down the canyon. It was such a victory as they
could not afford to gain again, and they were glad, when the
long flight was over, to follow their wives and little ones to
the south. There, in the deserts of Arizona, on well-nigh
unapproachable, isolated bluffs, they built new towns, and their
few descendants, the Moquis, live in them to this day,
preserving more carefully and purely the history and veneration
of their forefathers than their skill or wisdom."