Grand Gulch Primitive Area
---
Google

---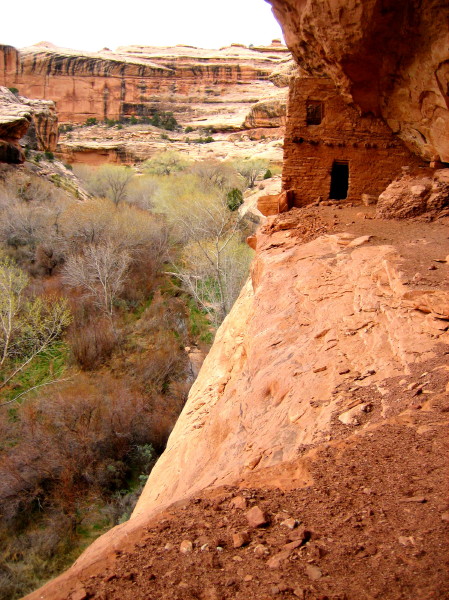 Where is Grand Gulch Utah located?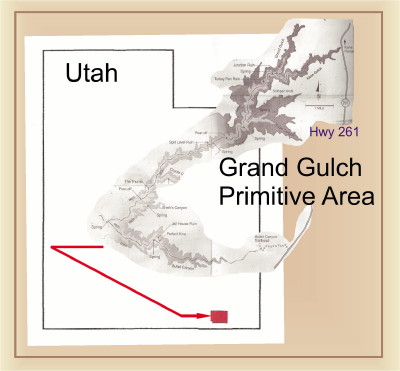 "Hosed! We're absolutely hosed." Fatalistically, I took the key from the 4WD ignition and sank weary bones into a worn-out driver's seat. Not even a clicking sound. The battery was completely drained. I looked over to my hiking partner whose face was struggling to work out what this meant. I knew what it meant. A twenty-three mile hike out a dirt road to the nearest paved highway, to the closest place a car might, per-chance, pause rather than speed by. And we were out of water. None would be found up here on top of Cedar Mesa.
My companion looked like a vagrant, four days in the same clothes, grizzled and dirty. Were I the potential good Samaritan on the road, upon seeing him I'd more than likely press the accelerator. I knew my own appearances were no better.

It was beside the point anyway. A twenty mile walk for Chrisake! And it's 4pm. "Completely Hosed"

We were exhausted. I closed my eyes, to meditate upon other possibilities.

My head jerked off my chest when the vehicle's back hatch slammed shut. Perhaps I'd dozed off.
There stood my partner outside the driver's door, grinning. Battery cables were draped around his neck and shoulders like a two-headed bull snake. He said we'd best get started. To me, this confirmed he'd pretty much lost his mind. But he explained the idea was to hold out battery cables to any passerby to indicate trouble with our vehicle rather than trouble from us.

Not Bad! My turn for ideas.
I pulled out a topo and after a careful inspection suggested a closer approach to the highway by taking a compass bearing and romping across four miles of the trail-less juniper forested plateau. We might reach pavement before sun down. Amazing what 90 seconds of sleep could do.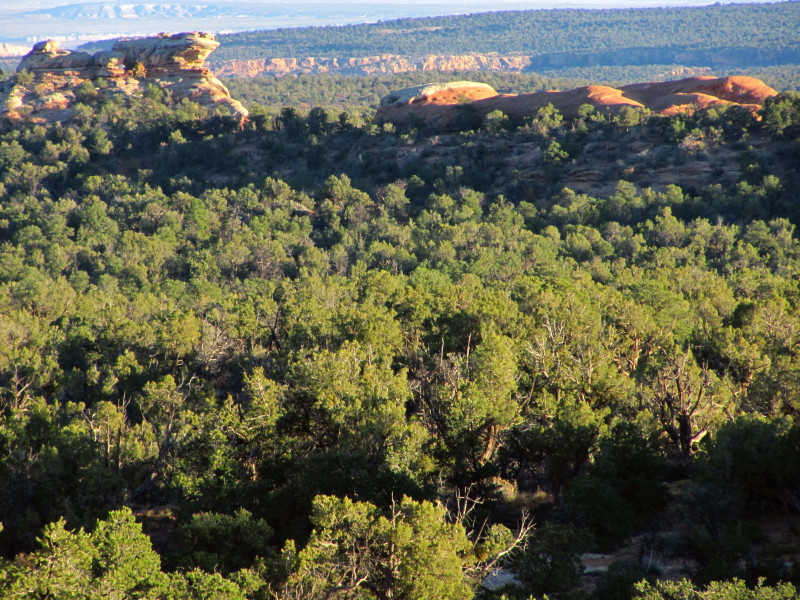 We set out to tread where surely no man had for centuries. There wasn't any backcountry reason to be up here.

As we traversed the trail-less mesa, I fixed my eyes on red soil between junipers, scanning, searching. The words of my younger brother, the archeologist, played in my head. "This is where they hunted. This is where you'll find arrow points" That had been the year before. No sooner had my brother spoke those words, then he paused in mid-stride, bent down, and picked up an extremely rare, milky-white, T-shaped bird point. He held it up to me with a poker face. I've always suspected he'd been as surprised as me to find one at just that moment. But he didn't let on.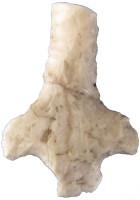 So upon this two-hour cross country trek, which necessity forced me to hike, I looked continuously for my arrowhead. Ten years later, I'm still looking.
My hiking compadre and I watched the setting sun for forty minutes alongside the empty highway. The young couple that eventually stopped, drove the only car we'd seen in that span of time. They spent the next four hours on a ten mile-an-hour dirt road just to give our vehicle a jump.

I was so astounded by their selflessness; I tried to shove 50 dollars into the young man's hand, to at least buy them supper. He flatly refused. He told me I now had a debt, and I was required to repay it to other travelers I found in need.
by Jay Archer David

The Grand Gulch Experience
Rising from the sea of Arizonan deserts to peer down at Eagle Mesa, Sentinel Rock, and towering monoliths of Monument Valley such as Big Indian, Rain God Mesa, and Yei Be Chei, is a lands-end called the Cedar Mesa plateau.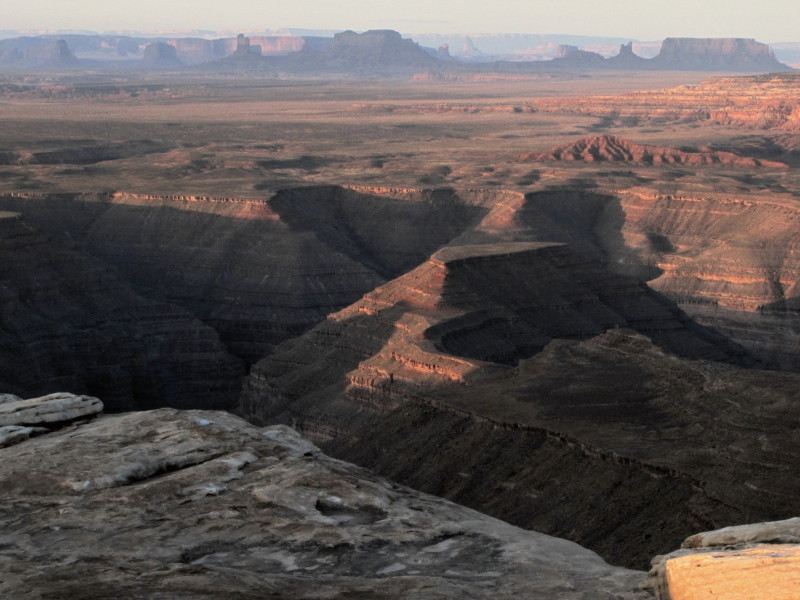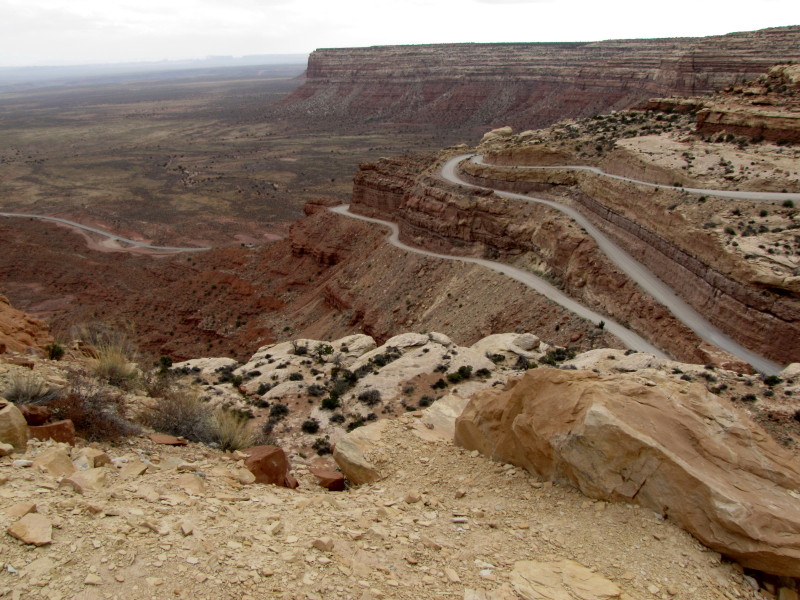 Located on the southern border of Utah, this plateau rises with jagged cliffs that bar access from the south, except by way of a breathtaking and harrowing switchback road carved into Cedar Mesa's very rock face—the infamous Moki Dugway.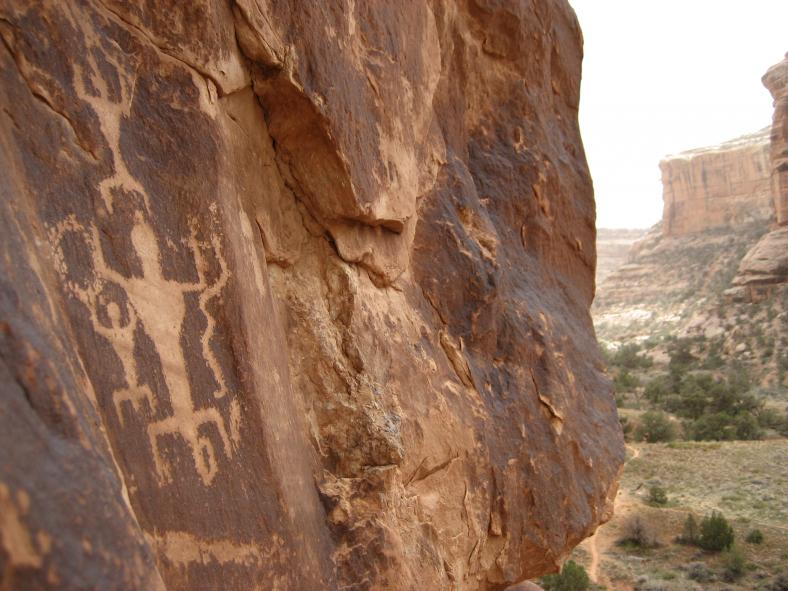 Ancient and modern man alike have stood atop the dramatic edge of this uplift surveying distances so vast as to cause them to ponder the mystical, as well as the geographic. The Diné, or Navajo, tell stories of the mist people emerging from subterranean levels to this 'Glittering World'. The Hopi say that first people climbed through a Sipapu portal near the Grand Canyon and embarked on a series of great migrations leaving symbols to show where they'd been.
Many came here to Cedar Mesa and left their mark. But this stark and beautiful landscape seems to resist any sort of permanence for human kind. Though are hearts would have us remain, it appears the nature of our relationship with this rugged province is that we are but visitors.
Even the prehistoric Native American culture known as the Anasazi dwelt here in relatively brief episodes.

The flat and juniper forested surface of Cedar Mesa Plateau is neatly sliced by a crow's foot pattern of dramatic canyons; Arch, Mule, Fish and Owl drain to the east, Johns Canyon to the South, and working its way westerly, the mother of all – Grand Gulch.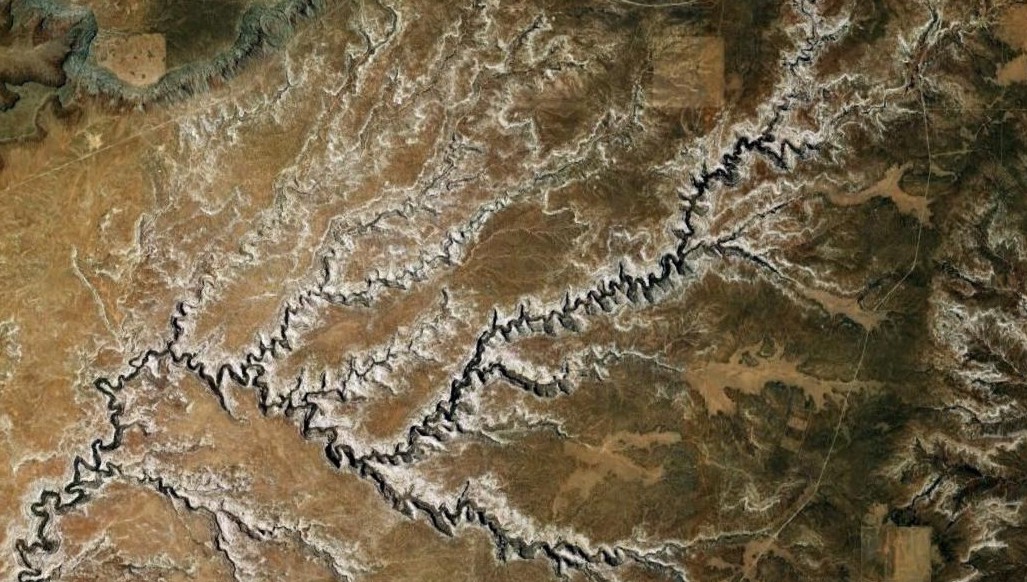 Arial Veiw of Grand Gulch Primitive Area and associated canyons
"Grand Gulch drains nearly all the territory southwest of the Elk Mountain from (Mc)Comb Wash to the Clay Hills, about 1000 square miles of territory. It is the most tortuous cañon in the whole Southwest…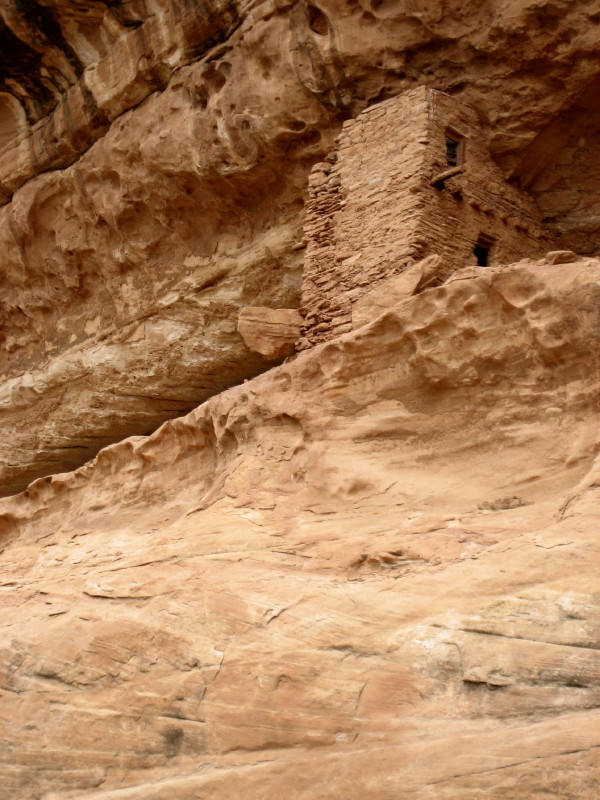 … each bend means a cave or overhanging cliff. All of these with exposure to the sun had been occupied by either cliff houses or as burial places."
—Richard Wetherill, pioneer explorer of Ancient Ruins
of the American Southwest
Perhaps Cedar Mesa's most inhabited canyon in prehistoric times, Grand Gulch keeps her stories as secretively as she hides her water in summer. Modern archaeologists have unraveled some of her past and attempted to place her in the larger mystery of the Ancient Puebloans. But archaeological remains give little insight into the more human questions
—Why did the Anasazi migrate into this challenging landscape.
—Why were some forced to barricade themselves in unassailable strong-holds, high in her cliffs, while others had dwelt in open communities just around the next bend?
—What caused them to leave? Who or what assailed them?
—And from here, where did the Anasazi go?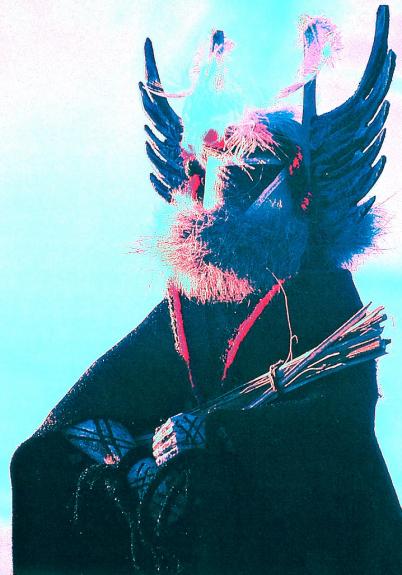 It's probable that modern descendants of the Anasazi, such as the Hopi or Zuni, know snippets of the story to Grand Gulch's past. They have meticulously handed down their history in an extensive oral tradition. These ancient cultures are devoid of written record. Instead they educate tellers of traditional history who apprentice for ten or more years before being permitted to officially speak the accounts of their people's past. But the stories are obscure with symbols and allegory.
"…dissatisfied, Tawa sent a new spirit, Spider Grandmother, down to prepare for a long trip…Powakus (sorcerers) unleashed evil into the world and turned people from virtue…causing the rains to fail"— Hopi Origin Stories
Furthermore, these stories are not authorized for outsiders. So visitors are left to puzzle amongst cryptic prehistoric clues, uncannily preserved by the desert air.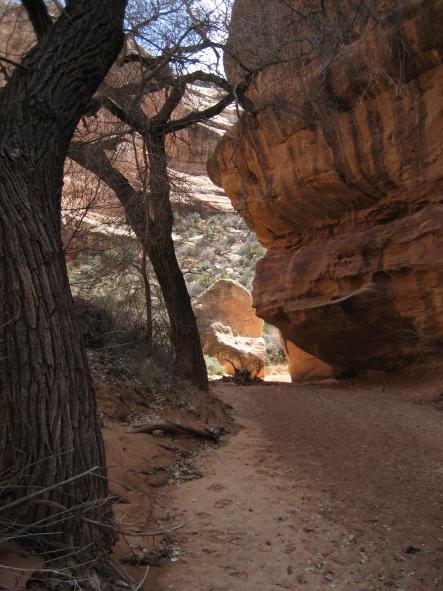 Not everyone visits Grand Gulch for her mysterious past. Austerity and grandeur draw us into her depths for the same reasons that humans have ever sought to be here. There are incandescent crevices and scant hand holds inviting us to explore above, below, into, and through—to find sacred places of our own.
Un-navigable pour offs waylay our path.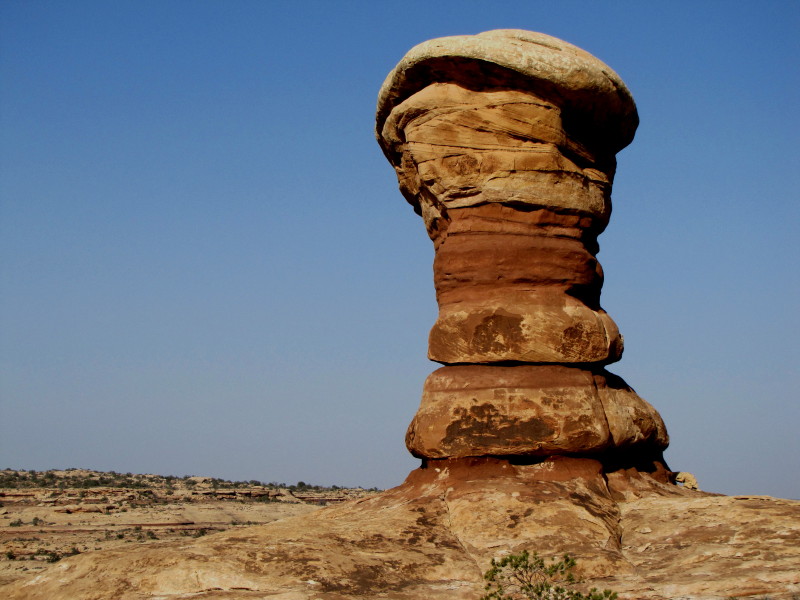 High above us on the canyon rims, enthroned hoodoos silhouetted in slanted crimson light test the complacency of our perceptions, stir our quest for meaning.
Perfume released from desert sage by morning's dew, or autumn's yellow dancing in cotton wood leaves, if only for a moment, lend us solemnity and peace.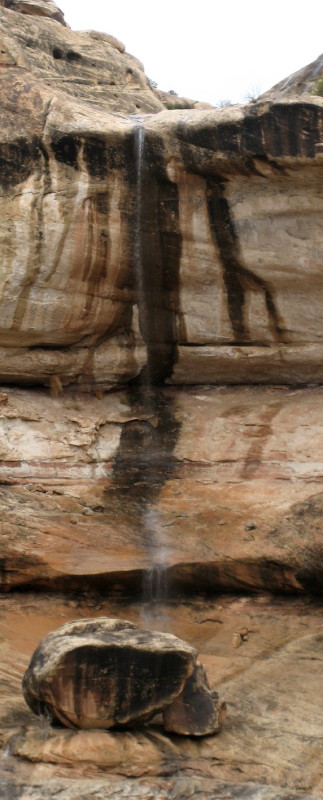 And if, per chance, our desert visit is graced by the spirits of rain, we might watch as the canyon's come alive with water pouring from high alcoves in hundred foot free falling cascades, backlit by reflective desert varnish.
Still, after coming to this place, who is not affected by the inscrutable painted symbols and enigmatic hearths mortared into the very masonry of the canyon walls? It is large part of the magic, the air of mystery, and the Grand Gulch experience.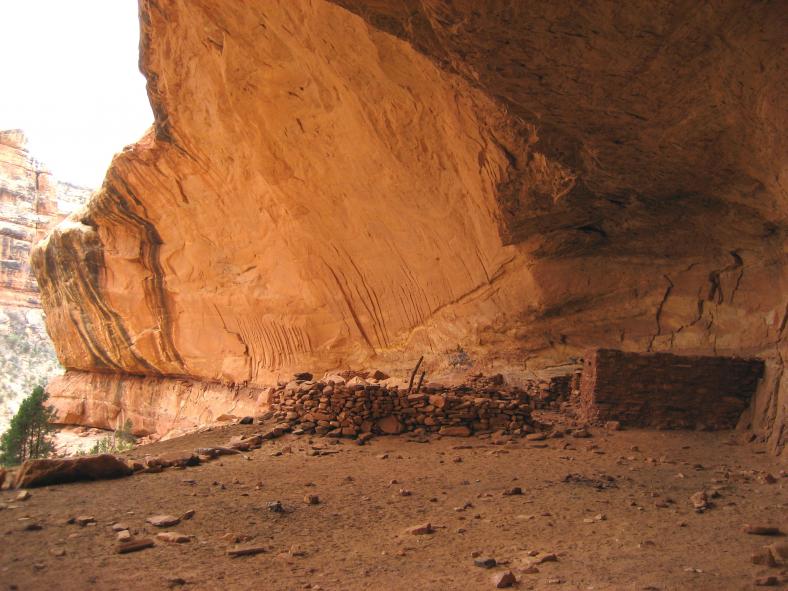 Bucking a Trend—(back to top)
"With little exception, the people I've met inside these canyons explore this fragile terrain with reverence. It makes me proud of us, the visitors of the new millennium. People bring their best and leave with little trace."
Isn't this about the point in a guide when you expect to be lectured on good stewardship of our fragile, perishing wilderness? For the wilderness managers it's a bureaucratic necessity—right? Well …. Not here. I'll leave that to the BLM and their twenty minute training video required in obtaining a backcountry permit. I know who's reading this. I've met you on countless remote trails, over hundreds of wilderness miles, for dozens of years. And you're the conscience of humanity as far as I'm concerned.
Over mothering of Grand Gulch visitors by administrators is perhaps understandable, and has arisen naturally because of the past offenses of some. Plus there are plenty who've worked their way into the ranks of the park administrators who feel possessive upon seeing beauty and are mistrusting of man.
I, however, have observed it differently. Could it be that a poor perspective of back country visitors is outdated? I hope so. On my last trip I asked a patrolling ranger about the caliber of his visitors. He related what he considered an ugly example of a scout leader that obstinately marched a charcoal grill into the gulch even though fires are prohibited. Okay, not great, but not that offensive. Upon pressing him, the patroller said that had been last season, or, maybe it had been two or three seasons before. Upon pressing him yet further he admitted that the vast majority of us were marvelous. Maybe there are actual modern horror stories to be told. But he shared none, and I was left with my optimism intact.
To me irresponsibility doesn't fit the modus operandi of someone strapping on 50 pounds in effort to follow a path of heart into a remote canyon, nor of someone who has conscientiously searched to find and read the material you are now reading.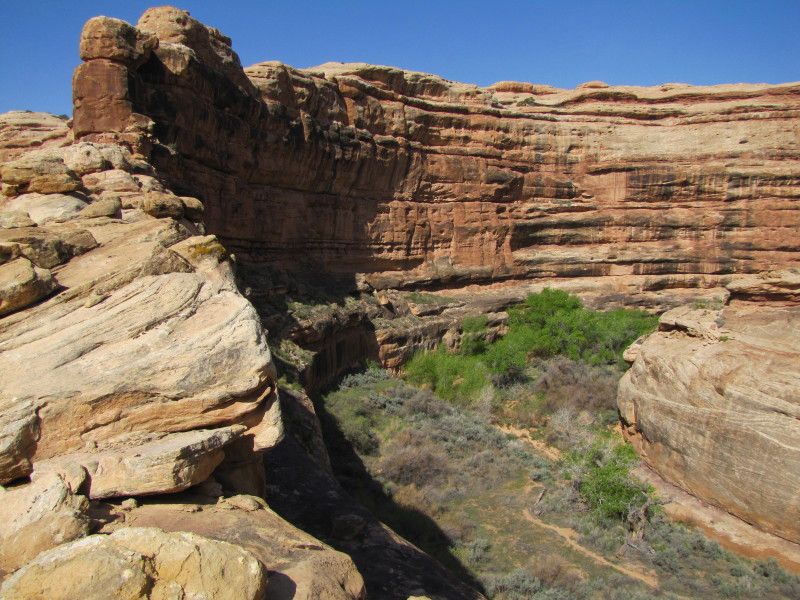 "On one occasion my group had dropped pack on the first day with the sun setting behind us. Our car was a 4 days journey down canyon, waiting for us. Rummaging through our packs for supper, to our horror, we discovered the fuel canisters we'd brought didn't match our stove, and all our dehydrated food required boiling water. We were in dire straits. I wandered into a neighbor's camp to ask for assistance so at least we wouldn't go hungry tonight. To my amazement the fellow hiker produced a brand new stove and fuel canister. His group hadn't needed it. So he handed it to me with his blessings. I had the oddest feeling that echoes of some blessing way were reaching out to me from the ancient canyon walls."
Backcountry etiquette, precautions, and safety is abundantly coached by the BLM. . In my experience, those that lack information for a particular area tend to educate themselves, as naturally as looking into the weather and the likelihood of finding water in the desert environ.
(ah well, me thinks I doth emphasize this topic too much..then again, so do they)
How to Explore Grand Gulch (back to top)
There are as many ways to explore the Grand Gulch as there are hikers. Grand Gulch is over 52 miles in length with numerous side canyons that allow for loop trips and shorter excursions. It is not necessary to back pack. Much of the canyon can be seen with a series of day trips.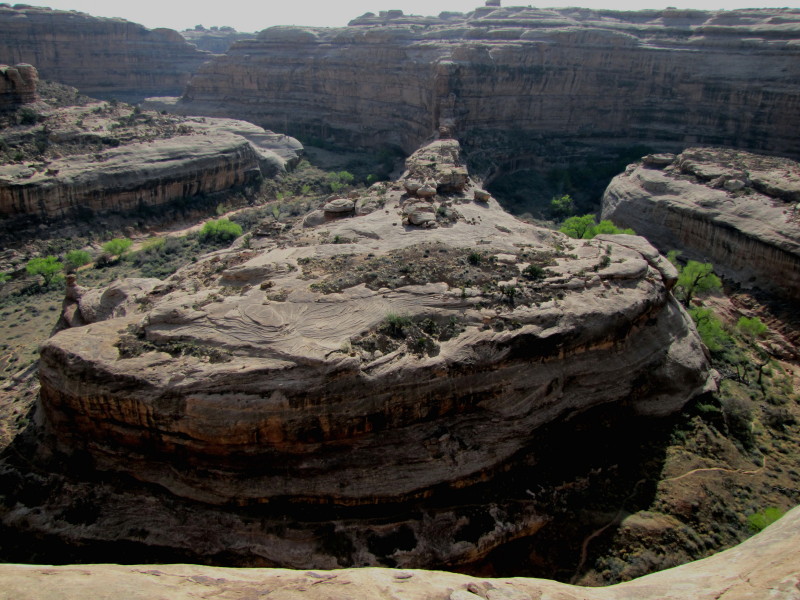 Grand Gulch begins as a small arroyo in the north of the Cedar Mesa Plateau off Utah State Highway 261. On its fifty mile journey into the barren and deep gorges of the San Juan River, it is joined by numerous side canyons, many that are equal to Grand Gulch in their splendor. Kane Gulch is the first to join, and actually the most common entry point. At the head of Kane Gulch is the Kane Gulch Ranger Station with its trailhead parking lot.
Some of the more notable side entries are Todie Canyon and Bullet Canyon with their amazing Anasazi ruins, Perfect Kiva and Jailhouse Ruin. Ten major canyon systems merge into the gulch, and twice that number again of smaller canyons drain into it. Those smaller ones are best explored from the floor of the Grand Gulch itself. Except for Todie and Bullet, most of these side canyon systems are infrequently visited, yet they offer distinctive rewards of their own.
Collins Spring Canyon nearly bisects Grand Gulch and makes an ideal exit point when journeying from the top. Collins Spring is also a popular starting place for exploring the lower Grand Gulch.
The upper section is relatively easy hiking with only a 500 foot elevation difference in 36 miles to the Collins Canyon intersection. It has broad bottoms and wide benches that make for many comfortable trails. The upper section boast the majority of well know cultural dwellings and two famous pictograph areas Big Man Panel and Green Mask. But rock art and structures abound.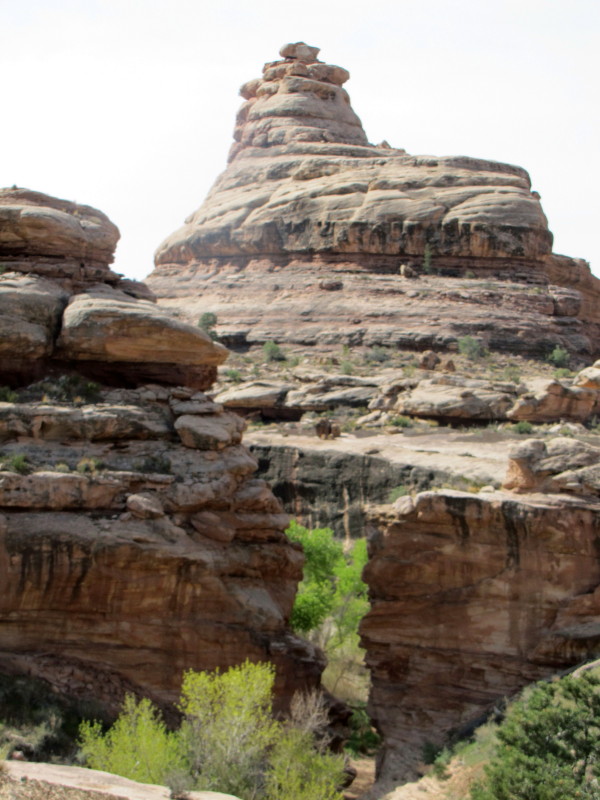 From Collins south the canyon narrows and deepens on its path down to meet the San Juan. Below Collins you'll find yourself in calf-building sand if you stay in the dry river bed, or constantly climbing, traversing then descending short shoulder trails to avoid the bottom. Most structures from here are small grain caches, but many are in remarkable condition. The rock art in the lower part of Grand Gulch is nothing short of spectacular.
Most that explore the lower section turn around once the reach the San Juan River gorge to return the way they came. The San Juan River Gorge is bounded by 1000 foot vertical walls that limit further exploration and deny routes for all but those on canoe or raft. However, if you are a hardy adventurer, and quite sure of your skills, half way up the walls of the San Juan gorge it is possible to traverse 3 ½ miles on an exposed cliff face across to Slickhorn Canyon and exit there. That would be a trip to tell your grandchildren about.
In the following sections I'll present maps and trail details, suggest several routes, paint the pictures, and tell you of her places and her stories, so that upon your visit you might get much more from the Grand Gulch Experience.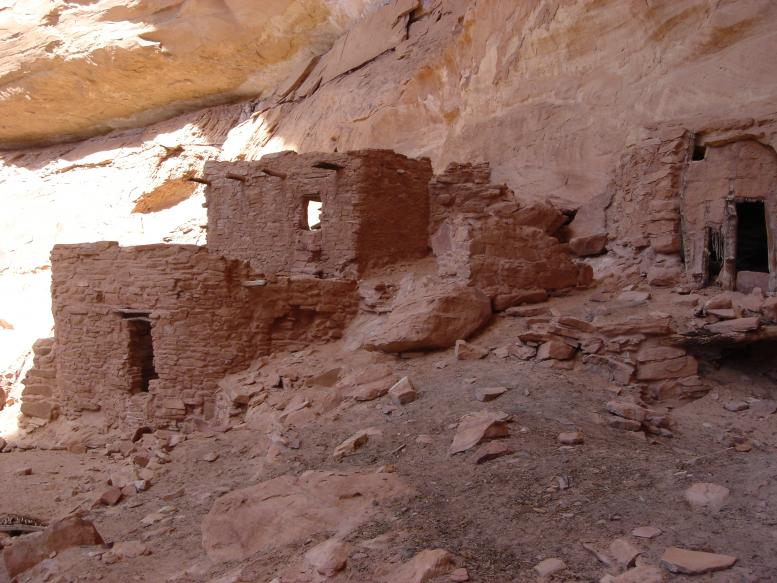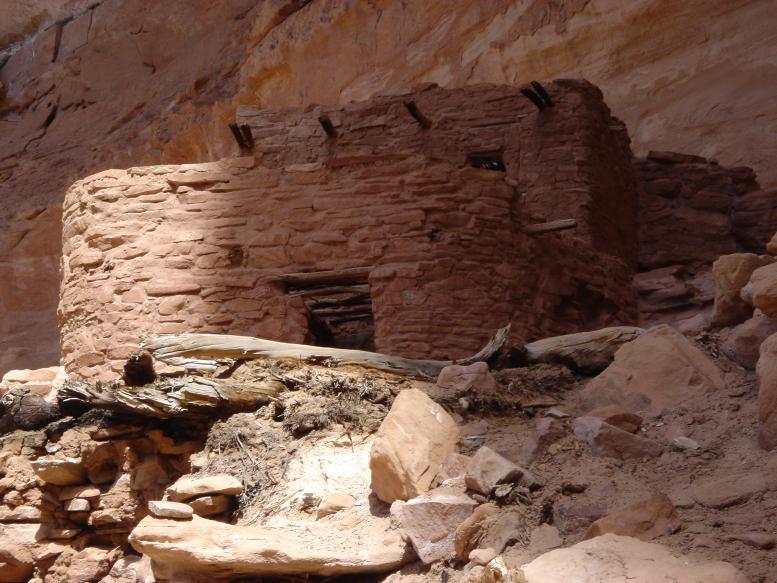 The First Explorers of Grand Gulch (back to top)
Little created more trepidation in the hearts of Navajo than burial grounds. They took great care during their own burial ceremonies to ensure the dead would not return to the world of the living. Those entrusted to burying the dead would wear nothing but moccasins, smear their bodies with ash to protect themselves from evil spirits, and then transport the corpse to an obscure place away from people. Once the body was interned, they made certain no footprints were left behind. A Navajo would not wittingly return to the area.

Given the fears and taboo's of the Indians that later settled the southwest, it's little wonder that after the Ancient Puebloans left Grand Gulch in the mid-1200's their canyon dwellings, abandoned belongings, and grave-bearing middens remained unvisited, unmolested—lay quietly under gathering desert sand for six hundred years…until the arrival of the white man.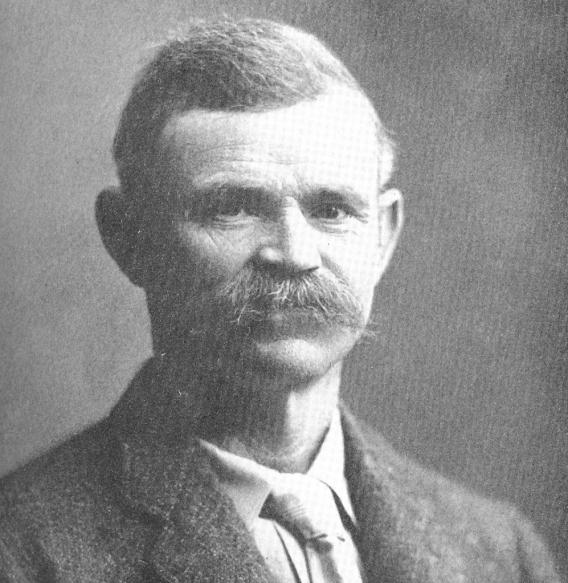 In 1893 few places were as isolated from civilization as Grand Gulch. When the rancher and famous amateur archeologist, Richard Wetherill, organized the Hyde Exploring Expedition only a handful of white men had seen Grand Gulch in four centuries. Yet in prehistoric times it was one of the most populated centers of the Anasazi culture.
"…one of the least frequented and probably the most inaccessible parts of the United States. A great rift in the earth, tortuous and fantastic, with mushroom or toadstool rocks, monuments of standing, seated, and bust figures… the general course [of the canyon] is northwest to southwest… but [as we traverse] we face every point on the compass"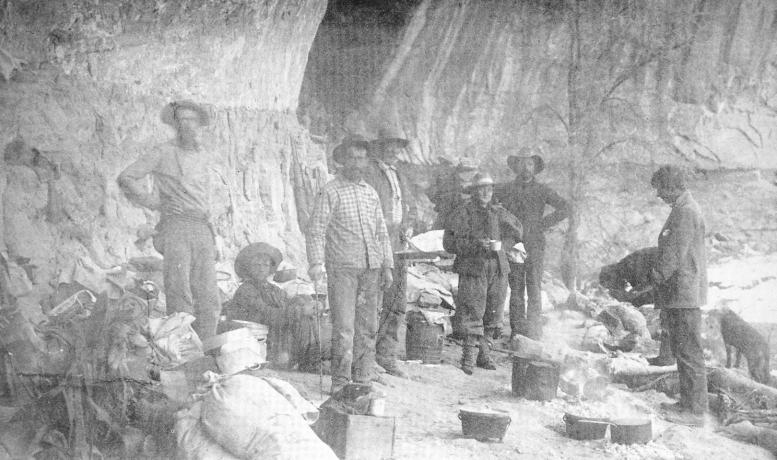 —Talbot Hyde, Hyde Exploring Expedition
The first explorers, McLoyd and Graham, quickly followed by the Wetherills, took thousands of Ancestral Pueblo skeletons, preserved foodstuffs, baskets, pots and other artifacts. Yet the present whereabouts of many of these collections is unknown. Even when a collection is documented as being from Grand Gulch, no one knows which specific sites the artifacts came from. With the exception of Richard Wetherill, the early explorers kept minimal notes, if any at all.
A Durango Baptist minister named Reverend C.H. Green purchased the first-to-be-seen artifacts of Grand Gulch from McLoyd and Graham for $3,000. An extravagant sum in any era, it equates to over $70,000 in today's dollars. Green later sold the collection to Chicago's Field Museum of Natural History where it resides today. Grand Gulch artifacts also made their way to the American Museum of Natural History in New York, and some as far away as Helsinki, Finland. But a preponderance of relics are scattered and disassociated, their significance and context lost.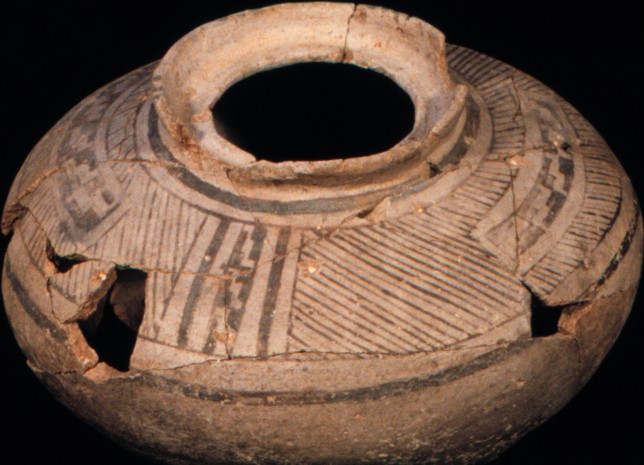 Typical of people that settled in the Colorado Plateau, first explorers made a living doing whatever the land would provide; mining, trapping, ranching, carpentering. For some, the lure of money to be gained from selling relics added prospecting for artifacts to the list of potential livelihoods.
As the allure of the relics being unearthed caused a transformation from "digging of artifacts" into "archeological collecting enterprises". Richard Wetherill initiated pioneering expeditions which became the cornerstone of Southwestern Archeology. He began thorough record keeping that researches use to this day.
"Our success has surpassed all expectations…In the cave we are now working we have taken 28 skeletons and two or more in sight and curious to tell…"—Richard Wetherill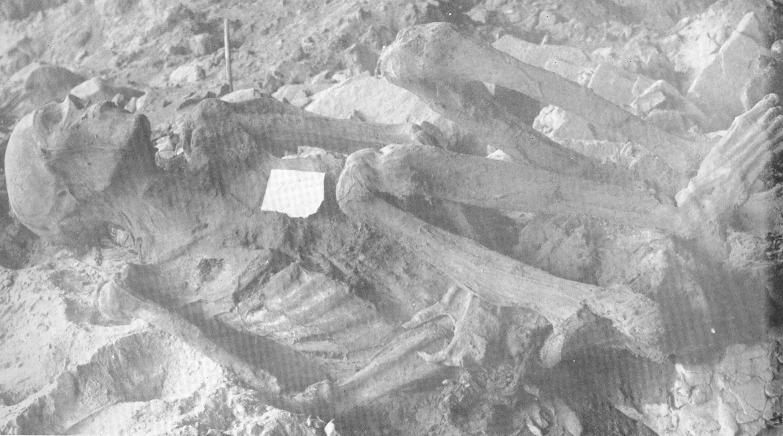 Basket Maker Skeleton found by Richard Wetherill in Grand Gulch Primitive Area 1892 (Cut in Two, victim of crude abdominal surgery)
Pictures from those expeditions tell stories that could never be comprehended from looking at relics in the drawers of museum basements.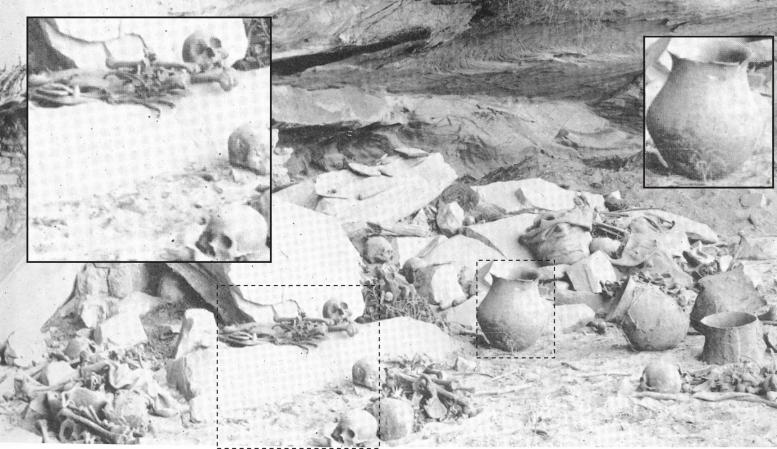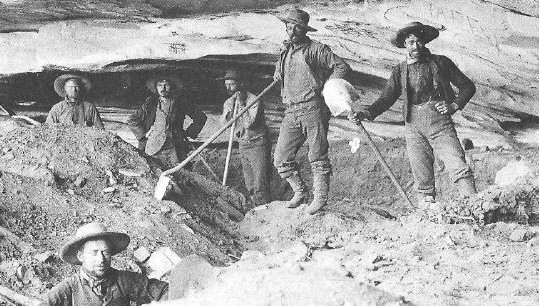 Nowadays, we travel to Grand Gulch on asphalt highways past towns, ranches, reservations, and farming complexes. These squeeze the primitive area into a somewhat smaller reality. From our twenty-first century perspective of vanishing wilderness, the loss and destructive removal of antiquities in the late 1800's might seem criminal.
But instead imagine the scene from the standards and realities of the day…
Wetherill: Riders of the Gulch

The wind lashing from the canyon depths blasted the riders with acres of airborne sand mixed with stabbing needles of ice. Richard Wetherill's big sorrel mare shied from the edge with a sudden wrench. Richard lurched forward to grab the saddle horn for balance and to keep from being blown from his seat. He brought the mare back around. The horse's ears were pinned back against the wind, but also rotated to listen for any signal from the rider that it was time to retreat from the ledge's punishment. None came.
Richard systematically scanned the horizontal bands of sheer cliff below him looking for any gaps his party might use for descent. Shivering, he pulled his Navajo blanket more tightly around his shoulders and waist. A townsman had often warned Richard that if he continued wearing this attire he might be shot for a Ute. Better to be shot than freeze to death, Richard thought, not knowing how prophetic that was. In a few years it will be his fate to be shot and killed, but not as an Indian, rather by an Indian—a Navajo will take his life in one of irony's most evil twists, for the Indians never had better friends than in the Wetherills.
Richard slid his bandanna up the bridge of his nose in a futile attempt to protect his eyes from the blowing sand. His leather chaps fluttered and cracked loudly in the gale, making the only sound audible above the wind's roar. The storm's bitter cold and the thought of that townsman's bigoted warning, combined to darken Richard's mood. He began reflecting on a tragedy he hadn't pondered in ages. After all, the Beaver Creek Massacre had been nearly eight years ago now. As Richard leaned into another blast of air, he imagined Tom Guenther opening the front door of his burning cabin to meet a chest full of lead. The Utes had formed a war party and had set out through McElmo Canyon. The first white settlers they came upon were the Guenther family, who lived on a small farm just nine miles west of the Wetherill's Alamo ranch. The Utes swarmed the house as night fell, setting it on fire. When Mr. Guenther came to the door they shot him. Mrs. Guenther escaped with her children out a rear door, but she took a ball in the shoulder.
Richard knew the other side of the story equally well. The day before the attack, white men had gone to Beaver Creek with the sole intention of stealing Ute horses. They came across a man with his two squaws and children resting by the river while fattening five horses and a small herd of sheep on good grass. The white men fired into the camp killing the man, one of his squaws, and then shot one of his children. After the Utes retaliated at the Guenther's homestead, troops were dispatched from Fort Lewis, but by then panic had spread through the valley. Everyone was afraid of the Utes.
The Wetherills had never feared the Indians. Living by strict Quaker principals, the Wetherills had befriended the Ute and Navajo as naturally as they did white men. No Indian had ever been turned away hungry from the Alamo ranch. Years back, ranch chores had been interrupted by a wailing heard rising from the river. "Damn Utes, drunk and whopping it up," commented a ranch hand speaking from his particular experiences. But the Wetherills knew better. They found three sick Indians on the bank keening in distress, one all but dead from pneumonia. In time the Wetherills nursed them back to health.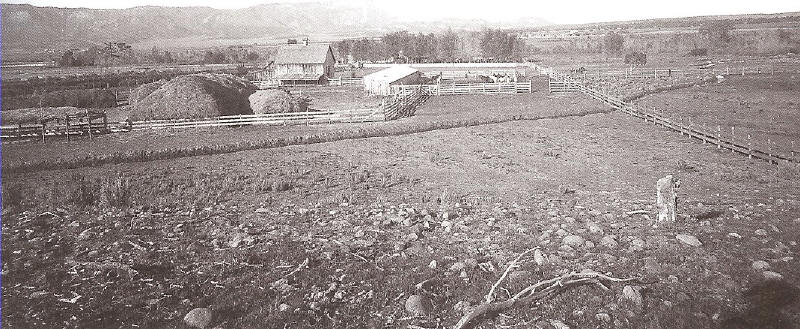 Wetherill's family Alamo Ranch in 1891

Richard never wore a sidearm, believing violence begets more violence. Even for this expedition, travelling through Ute encampments where the Wetherills were not known, and in spite of open unfriendliness and threats, Richard remained unarmed, relying instead on common sense.

But neither the Ute nor Navajo would be anywhere near where Richard now sat mounted. The canyon he was laboring to enter was four days journey from the mountains and valleys the Ute claimed as their traditional home. It was even further removed from the New Mexico and Arizona territories of the Navajo. Moreover, Indians would not venture to dwell in this canyon, for they knew what lay hidden in the Grand Gulch
"When you disturb the spirits of the dead, you die too," is the way Acowitz had put it. The old Ute lived in a hut near the basin where the Wetherills wintered their cattle. Because of their long friendship, Acowitz eventually told a secret to Richard, a thing unknown to white men. Though scattered, small, and dilapidated ruins suggested an older people had once lived within these valleys, nothing like what Acowitz described to Richard had ever been seen by white settlers. "One of those houses, high, high in the rocks, is bigger than all the others, with rooms in such numbers that you would become lost. Utes never go there, it is a sacred place." Richard had pleaded, demanded to know how to find it. But the Ute shook his head as though he had already said too much. He warned Richard to never go there.
Unheeding of the Ute's warning, Richard and his brother John discovered the cliff palaces of Mesa Verde. They made footprints in dust covered dwelling floors that had been undisturbed for nearly a thousand years. On their first visit, they moved through the silence of interior rooms, scarcely speaking. Everything that was heavy lay about on the ground, in corners, as though the inhabitants had just set them down and might return at any moment. Stone axes, with hefty blades still lashed to their wooden handles, pottery bowls, mugs and large jars for carrying water. In subsequent visits, using shovels to excavate beneath the floors, the Wetherills found further surprises, as they unearthed burials.
A year later, Richard and another brother Al, packed a sizable collection, and took it to Durango then Denver, giving lectures on the Mesa Verde marvels. "Who cares, old pots and stuff left by a bunch of primitive savages?" They met apathy verging on ridicule at every exhibit, at least that was true until their brother, Clayton, discovered the mummy of a child…
The early November squall raging through Grand Gulch made his mounted companions look veiled and miserable. Richard cursed the necessity of exploring Anasazi ruins during winter months. In light of his father's failed health, and being the oldest, Richard was responsible for keeping the Alamo ranch solvent in the face of its tremendous burden of debt. So three seasons each year he labored as a rancher. Winters he gave to his passion for discovery. The compromise was better than nothing.
History would be unkind to Richard Wetherill. What was originally applauded as discovery became rewritten as vandalism. Some called Richard a pot hunter or mercenary, selling Mesa Verde antiquities as souvenirs from a small barn on the Alamo ranch that had become a museum of sorts. He freely admitted to the truth of that in the early years. But even Archaeology journals didn't frown upon the practices at the time. He soon stopped selling pieces as he began to realize the importance of his mounting discoveries.
No scientific men came to answer his call to research the Anasazi dwellings, and in light of the growing trend to maraud the ancient dwellings, Richard took the study upon himself. During his Chicago exhibitions he'd met the Hyde brothers, wealthy inheritors of a New York empire built on selling soap. They provided funding for this first Grand Gulch expedition, and would become the benefactors of the future explorations for the remainder of his life. The collection to be removed from the canyon he now gazed into was slated for the American Museum of Natural History, a distinguished institution of science.

Richard sat on his mount, defying a wind that seemed to be attempting to drive him from Grand Gulch. He was staunch and resolute—for he knew with this expedition he was entering a new field of archaeology, something untouched by the science of ethnology. Though Richard was uneducated and untutored in science, he was a determined and ingenious pioneer. The value of the collection would rely on his ability to document every aspect of the work that lay ahead. He'd prepared as best he could, devising techniques to measure, log, and record his findings. Aside from rifles for hunting, he carried reams of paper, shovels, brushes, months of supplies, and mules to pack out the volumes of pottery, relics, and skeletons that warned him to turn away.

Was nature herself cautioning him to abandon this twisted and mysterious canyon and perhaps escape fates forming to create a sad and tragic end?

Richard led his party through the cold November strom, down a large side canyon which would later be known as Bullet Canyon. Into Grand Gulch he descended to disturb the spirits of the dead once again. He marched into an elaborate snare that was set in his path.
by Jay Archer David

(Why was Richard Wetherill Murdered?)
---
How do you know what's Real?
ROAD SIGNS by Jay Archer David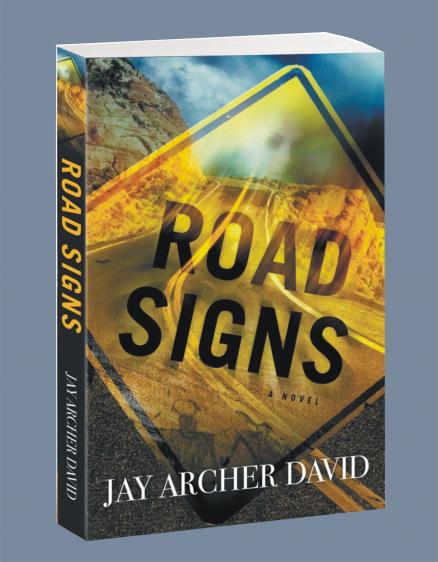 After a near-fatal climbing accident, David tries to return home–But the Road is no longer what it seems.

The stark beauty of Canyonlands, followed by the desolation of the Mexican Sonoran desert, become the setting for an inner and outer journey—on a mysterious road that connects people, desire, places, and time.

- read:1st Chapters - visit: ROAD SIGNS webpage - purchase: Road Signs at Amazon
---
Tweet
Grand Gulch Topo Maps and Trail Descriptions
(back to top)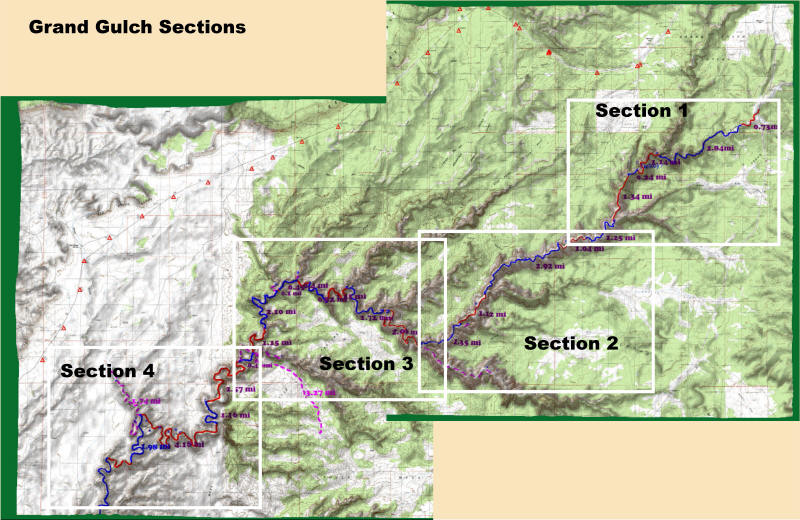 Section 1: Kane Ranger Station to the Pour Off Traverse.
(back to top)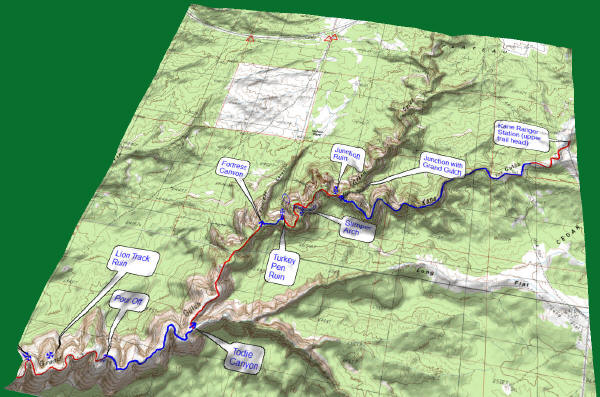 Topo Map of Grand Gulch Primitive Area:
(Click to View Topo Map for Section 1 )
LOW Resolution Topo Map: Grand Gulch Section 1
HIGH Resolution Topo Map: Grand Gulch Section 1
Trail Stats
Trail Seg
Feature or Endpoint GPS Coor (UTM)
Dist (mi)
Cum Dist
Climb / Descend
Elev Change
Elev Start
Photos
1
Kane Ranger Station to Emigrant Trail Intersection
12 05

96

926E, 41

53

190N

0.73
0.73
32/-91
-58
6397
g1
2
Emigrant Trail to Junction with Grand Gulch
12 05

93

919E, 41

51

972N

2.84
3.56
427/-912
-484
6371
g1
Junction Ruin
12 05

93

805E, 41

52

63N

3
Junction Ruin to Turkey Pen Ruin
1.14
4.71
167/-153
13
5892

Turkey Pen Ruin

12 05

93

50E, 41

51

424N

g2

Stimper Arch

12 05

93

352E, 41

51

532N

g3
4
Turkey Pen Ruin to junction with Fortress Canyon
12 05

92

729E, 41

51

249N

0.24
4.94
47/-115
-67
5836
5
Fortress Canyon to junction with Todie Canyon
12 05

92

729E, 41

51

249N

1.34
6.28
112/-192
-79
5826
g4
6
Todie Canyon to pour off traverse
1.25
7.53
95/-142
-47
5742

Pour Off Pool Traverse

12 05

91

126E, 41

48

729N

g5
NOTE: Trail Descriptions, pictures and ruin information along with GPS locations are constantly added..check back

Section 2: Pour Off Traverse to Junction with Bullet Canyon.
(back to top)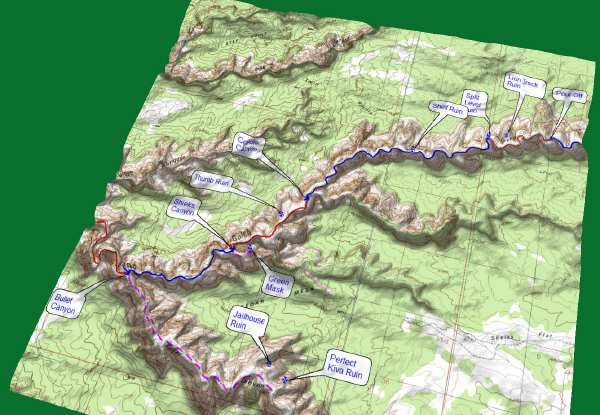 Topo Map of Grand Gulch Primitive Area:



(Click to View Topo Map for Section 2)
LOW Resolution Topo Map: Grand Gulch Section2

HIGH Resolution Topo Map: Grand Gulch Section 2
Trail Stats
Trail Seg
Feature or Endpoint GPS Coor (UTM)
Dist (mi)
Cum Dist
Climb / Descend
Elev Change
Elev Start
Photos
Lion Track Ruin (Estimated Location)
12 05

90

350E, 41

48

600N

0.53
8.05
g6
7
Pour off to Split Level Ruin
1.04
8.57
114/-193
-78
5695

Split Level Ruin (Estimated Location)

12 05

90

55E, 41

48

522N

g7

Shelf Ruin (Estimated Location)

12 05

88

806E, 41

47

920N

1.22
9.79
8
Split Level Ruin to junction withCoyote Canyon

12 05

87

228E, 41

46

533N

2.92
11.49
287/-399
-112
5614

The Thumb Ruin (Estimated Location)

12 05

86

923E, 41

46

128N

0.56
12.05
11
Coyote Canyon To junction with Sheiks Canyon
12 05

86

300E, 41

45

353N

1.12
13.17
99/-159
-60
5501

Side Trail up Sheiks to Green Mask Ruin and Pictograph Panel

12 05

86

622E, 41

45

395N

0.26
g8
12
Shieks Canyon to junction with Bullet
12 05

84

779E, 41

44

553N

1.35
14.52
211/-293
-81
5439

Side Trail up Bullet to Jail House Ruin and Perfect Kiva Ruin

2.33




Jail House Ruin

12 05

87

392E, 41

43

689N

g9

Perfect Kiva Ruin

12 05

87

766E, 41

43

597N

g10
NOTE: Trail Descriptions, pictures and ruin information along with GPS locations are constantly added..check back
Section 3: Bullet Canyon to Pollys Canyon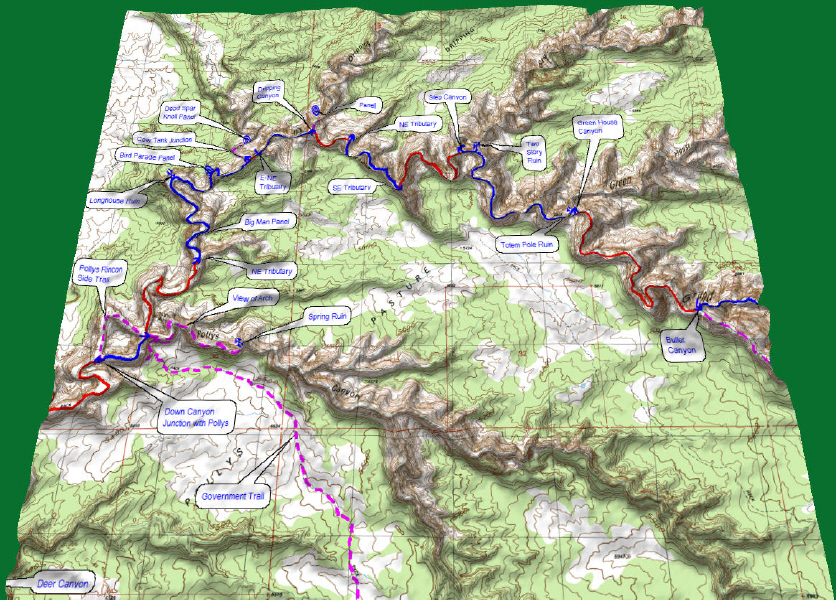 Topo Map of Grand Gulch Primitive Area:



(Click to View Topo Map for Section 3)
LOW Resolution Topo Map: Grand Gulch Section 3

HIGH Resolution Topo Map: Grand Gulch Section 3

Trail Seg
Feature or Endpoint GPS Coor (UTM)
Dist (mi)
Cum Dist
Climb / Descend
Elev Change
Elev Start
Photos
13
Bullet Canyon to junction with Green House Canyon
12 05

83

502E, 41

45

823N

2.06
16.57
435/-504
-69
5355

Totem Pole Ruin (Estimated Location)

12 05

83

451E, 41

45

812N

14
Green House Canyon to junction with Step Canyon
12 05

83

156E, 41

46

713N

1.72
18.29
440/-501
-61
5245

Two Story Ruin (Est Location)

12 05

82

349E, 41

46

731N

1.54
18.11
g11
15
Step Canyon to junction with SE Tributary
12 05

81

372E, 41

46

158N

1.18
19.47
360/-388
-28
5195
16
SE Tributary to junction with NE Tributary
12 05

80

727E, 41

46

890N

0.82
20.30
88/-109
-21
5187
17
NE Tributary to junction with Dripping Canyon
12 05

80

250E, 41

46

989N

0.40
20.70
68/-81
-12
5164

Side Trail up Dripping Canyon to Panel

12 05

80

286E, 41

47

272N

[0.19]
18
Dripping to junction with E-NE Tributary
12 05

79

597E, 41

46

654N

0.45
21.15
90/-108
-21
5143
19
E-NE to junction with Cow Tank Canyon
12 05

79

483E, 41

46

561N

0.09
21.24
17/-16
0
5143

Side Trail up Cow Tank Canyon to Dead Spar Knoll Panel

12 05

79

457E, 41

46

823N

[0.35]

Bird Parade Panel (Est Location)

12 05

79

28E, 41

46

369N

0.35
21.59

Long House Ruin

12 05

90

350E, 41

48

600N

0.53
22.12
g12

Big Man Panel

12 05

79

457E, 41

46

823N

1.77
23.01
g13
20
Cow Tank to junction with NE Tributary
12 05

79

24E, 41

45

126N

2.10
23.34
396/-457
-61
5082
NE Tributary to junction with Pollys Canyon
12 05

78

568E, 41

44

165N

1.15
24.49
162/-174
-13
5069
Government Trail Junction

Government Trail

[3.27]
548

Side Trail up Pollys Canyon to Spring Ruin

[1.05]

Side Trail around Polly Rincon

[0.66]
21
Down Canyon Junction of Pollys Rincon
12 05

78

101E, 41

43

869N

0.42
24.91
66/-61
-4
5065
g14
Section 4: Pollys Canyon to Collins Spring Canyon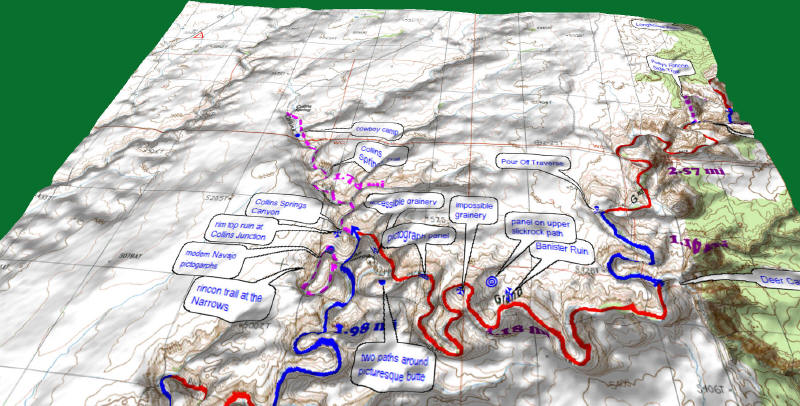 Topo Map of Grand Gulch Primitive Area:



(Click to View Topo Map for Section 4)
LOW Resolution Topo Map: Grand Gulch Section 4

HIGH Resolution Topo Map: Grand Gulch Section 4
Trail Seg
Feature or Endpoint GPS Coor (UTM)
Dist (mi)
Cum Dist
Climb / Descend
Elev Change
Elev Start
Photos
22
Pollys Rincon to Pour Off Traverse
12 05

76

781E, 41

42

334N

2.57
27.48
446/-545
-87
4978
23
Pour Off Traveres to junction with Deer Canyon
12 05

77

208E, 41

41

506N

1.16
28.65
243/-326
-78
4900
24
Deer Canyon to junction with Collins Springs
12 05

74

314E, 41

41

794N

4.18
32.83
1181/-1304
-173
4727

Banister Ruin

12 05

75

847E, 41

41

167N

g15

panel on upper slickrock bench

12 05

75

686E, 41

41

264N

g16

impossible granary

12 05

75

426E, 41

41

157N

g17

pictograph panel

12 05

75

67E, 41

41

316N

g18

two stream paths

12 05

74

678E, 41

41

204N

g19

accessible granary

12 05

74

563E, 41

41

562N

g20

Collins Spring Trail

[1.74]

Cowboy Camp

12 05 73 381E, 41 43 89N
g21

Rim Top Ruin at Collins Springs Junction

12 05

74

185E, 41

41

678N

g22
25
Collins Spring junction to East Tributary
12 05

74

2E, 41

39

969N

1.98
34.81
-67
4660

The Narrows

12 05

74

245E, 41

41

426N

g23

rincon trail at the Narrows

[0.80]

post-Anasazi Navajo pictographs

12 05

74

110E, 41

41

538N

g24
NOTE: Trail Descriptions, pictures and ruin information along with GPS locations are constantly added..check back
Tweet
---
Comments
---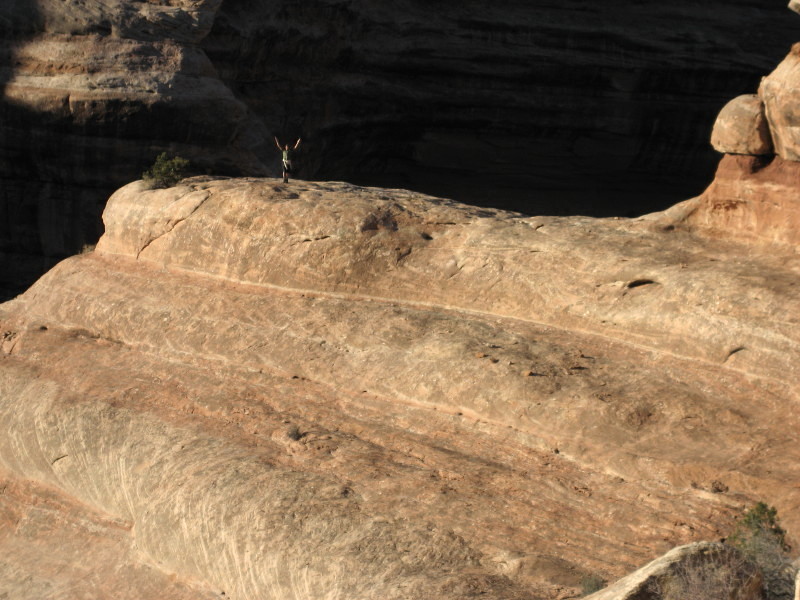 (Grand Gulch Guide is constatnly under construction - keep checking back as information, pictures and sections are constantly being added. This Grand Gulch Experience will ultimately document the entire canyon. For advance info contact Jay Archer David)
---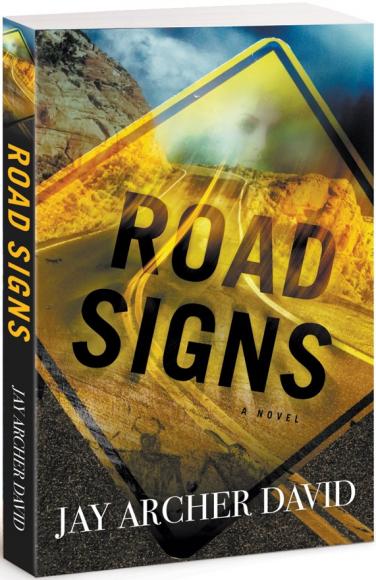 After a near-fatal climbing accident,
David tries to return home. But the road he's on is no longer what it seems. He's pursued by a terrible secret that will turn a simple dream into the greatest of human struggles. The road leads David into the past, the future, and back to a present truth he sought desperately to escape.
NOVEL: ROAD SIGNS
by Jay Archer David
-visit ROAD-SIGNS.org