Choquequirao Trek: The lesser-known route to Machu Picchu
---
Google

Guides, Maps

Videos

- of the lesser known Inca Trail
---
(back to top)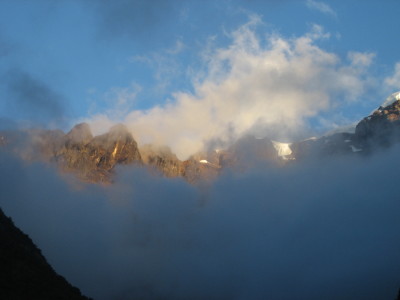 Vertical
"4200 meters."
Juan Carlos leaned on his staff, not the least bit phased. He was grinning at me.
My face was probably blank as I struggled to relate. After a rough calculation I pronounced.
"13,800 feet."
His turn for a blank face.
"This is the pass," he said.
"I know."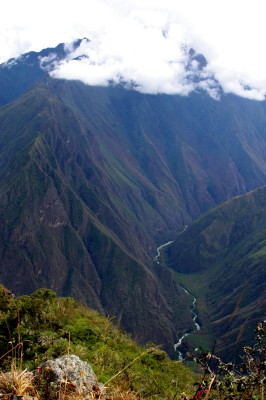 Near vertical, fern covered slopes sprang from the saddle where we'd halted. They ended high above us in a soaring ridge of jagged peaks. Victoria Pass. This was high-point for today's hike, but peering upwards it still felt like the bottom of the Andes Mountains to me.
"It's not bad. Tomorrow will be bad." Juan Carlos continued, "4600 meters."
Well over 15,000 feet. I made no immediate reply. I was too busy chasing an image from my mind, that of a gold fish flopping on a wet counter gulping for air. Starting at 17,000 it's no longer a question of survival, only how long. I had no desire to sample 17K, not ever…leave that for mountain climbers with O2 bottles
"No, not bad" is all I said, and it was essentially true. I wasn't even light headed. Others of our group would be faring worse. At least I'd lived a mile-high my entire life.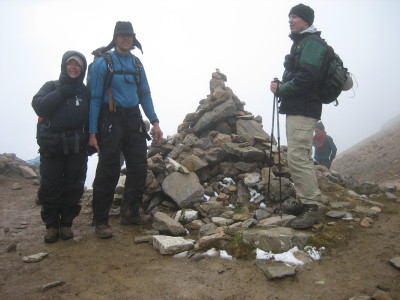 Thank God the older Floridian was riding today, I thought. But not tomorrow, what about tomorrow?
This morning at camp, like every morning at camp, had begun with the usual question, "Will we be able to ride?"
It was a question nobody had thought to question back home. The organizers had promoted this as a horseback trek–at least for those who wished. Our small expedition got its first taste of "the little unspecified proviso" upon stepping off the bus near the edge of the wilderness.
"Too steep for riders, you walk here!"
"What? How far?"
"Not far."
Perhaps not far for an Andean, but it was to be seven arduous hours for us and our sea-level compadres. And most of that in the dark of night. Why dark? Well, two reasons… First off, at 11 degrees from the equator, the day is near evenly split with night. It's always dark and light at 6.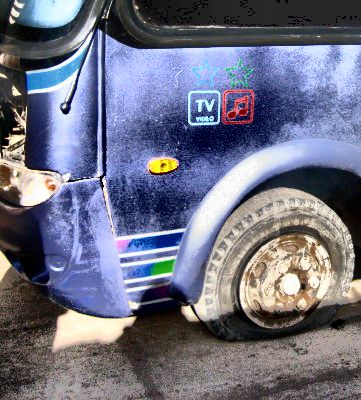 But the other reason was perhaps more foretelling for what lay ahead. After grinding down a road far too steep and switched backed for our heavy urban bus, the front tire had exploded, stranding us a full mile from the town of Cachora and the trailhead. Flies swarming around flattened rubber, attracted by the stench of overheated brake pads, greeted us as we clamored off the bus. By the time the driver and crew finally gave up on repairs and 'pronounced the time of death for the bus' it was 4pm.
We were condemned. A slip in schedule was not in the schedule.
Off we marched to meet the outfitters in Cachora on foot, and then to descend in darkness 3000 feet into the canyon of the mighty Apurimac River, with only head lamps and the distant thunder of water from below.
We'd come for adventure.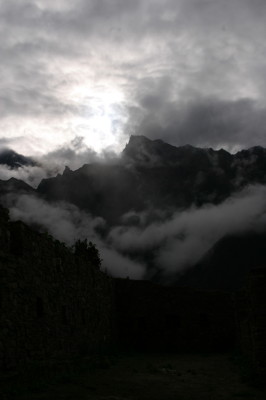 Juan Carlos and I turned as the rest of the 'hiking contingent' ascended to join us on Victoria pass. Dave winked at me playfully beneath his baseball cap. "Wow," he said and stepped towards the edge to have a look. The misty landscape fell away into dark canyon ravines on either side of us. After a stunned pause he added, "We're not even close, are we."
At his side appeared the tireless Paula, followed by the ever lovely Joan. That rounded out our small group of 'the hikers'. Actually, the number of hikers varied day to day, sometimes under protest as aforementioned. But this obstinate foursome had no intention of climbing into a horse saddle on this 10 day expedition through the cradle of the Incas, past the lost city of Choquequirao, on the lesser-known route to Machu Picchu. However today, the 5000 foot, seemingly straight up, slippery battle had nearly been an equal to our resolve.
Each of us were fabulously equipped; fancy climbing boots, Gortex garments with neat North Face labels, and snazzy backpacks. From high atop Victoria pass, we gave each other sturdy looks of silent congratulations and a few subtle pats upon the back. Then we looked down the descent that lay before us, every bit as steep, strenuous, and slippery as the trail that had brought us to the pass. We'd arrived to a remote cleft atop the world–a world of no man.
In that moment, it wasn't the dizzying bottomless canyons or jungled slopes plunging from skyscraping glacial peaks, or even the distant view of the remote village of Yanama that took our breath away.
It was five children, coming up…
no that's not quite right,
jogging?
hmmm–
–galloping up the crevice towards us from the village side of the pass. Laughing, skipping, with no regard to the trail, the little horde came at us. The oldest couldn't have been more than 10 years. One boy rode a pony, which barely kept up with those on foot. A small girl in black woven hair stopped to say something in her native tongue of Quechau and then giggled merrily as she crested and vanished down the other side into the cloud forest.
What dumbfounded me was each of them wore some form of bright color galoshes, cheap plastic boots like you'd find at Wal-Mart for 3 dollars. I couldn't help but look down at my $250 Asolo GTX hikers.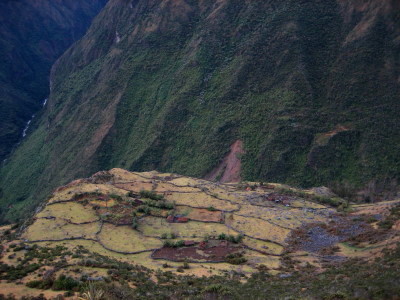 Where were those kids going? There wasn't much where we'd come from, the direction the children now headed. Also, we'd started early in order to make Victoria pass with enough light left to descend to Yanama village. A quick check of my watch showed 4:00 pm. It was very late on a Friday afternoon. I bounced a concerned question about the children to Juan Carlos.
"You know the farm we camped next to this morning?" he asked rhetorically, "that is where they live. They are returning from school."
In a 'you poor dears' tone of voice, Paula said, "They're only home on weekends? And they make this awful climb every week to go to school? Oh my Gosh!"
Juan Carlos gave her a puzzled look.
"No," he spoke slow and humbly concerned he might be missing what lurked behind the questions of his American guests, "This morning they went to school. Now it is afternoon. They return."
Twice what we've done today…plus a full day at school?
Dave whistled.
I simply slumped onto a wet granite rock.
Yanama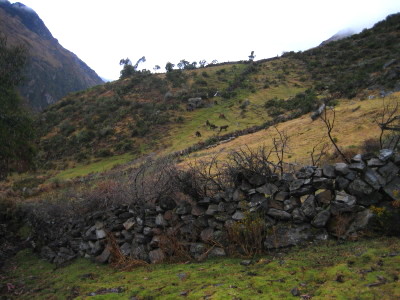 A dozen tall folk with white faces sitting on the ancient moss mortared walls of their village, as wranglers ushered pack ponies past laden with camping gear; perhaps it was a slightly curious sight, but not uncommon enough to disturb the evening rituals of the Yanama villagers.
An elderly man clad in a bright red striped Alpaca blanket wandered up the path towards us. Joan sat cross-legged, and I was leaning against the wall next to her swinging foot. The gentleman stopped and looked two feet up at me. He wore a mustard yellow, wide brimmed fedora which was impeccably clean and sported a small blue feather in the hat band. Scaly brown ankles and permanently blackened toenails showed through X-crossed leather sandals. His smile was so genuine and so severe that his eyes became lost in the depths of his wrinkled face. There was a single stained tooth left in his smiling head, and from his stuffed cheek oozed a wad of coca leaves.
In a high pitched voice, he sang a page of Quecha syllables at me as his stubby finger pointed at the Pumasillo Glacier of Mount Sacsarayoc behind us. He laughed at my lack of comprehension, and grabbing a pouch from his belt, pinched some coca leaves and held them up to me.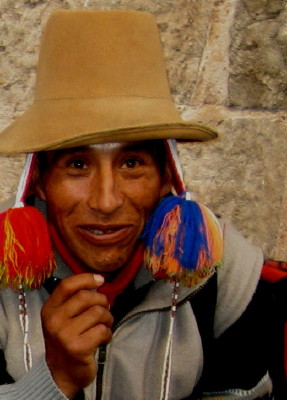 I stood wide eyed. Un-dissuaded the old man opened wide his mouth to demonstrate the oozing wad of high-altitude remedy in his cheek. Joan guffawed, and covered her mouth to hide her giggles. Then the man indicated I should stick the offered leaves into my mouth. I held up my hand in polite refusal, and Joan kicked me saying, "You ought to take him up on it."
I elbowed her in the thigh, while at the same time smiled and offered another decline to the man. He shrugged, returned the leaves to his pouch and sauntered down the narrow village pathway.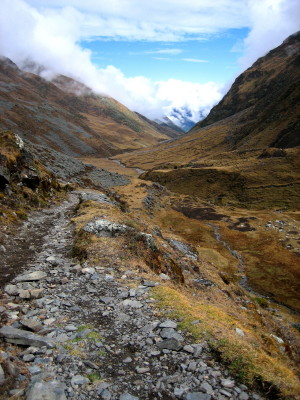 The next morning we left Yanama village and climbed to fifteen thousand feet through Yanama pass in prairies of grass called Ichu. We were in the very heart of the Vilcabamba range. The terrain was encircled by the glacier worlds of Salcantay, Padreyoc, and Pumasillo. The fern covered trails, rain forests, and time itself, had ceased to exist. Our small band or travelers were the only ones left upon the face of the globe as we hiked through the silent tundra of the high country.
By the time we descended into the village of Totora we were five days from road or vehicle, in a landscape too rugged for the long reach of technology–but what did Totora care? Its rhythms had been set centuries ago. Transport of goods and produce was by horse back or the stout short backs of the Quechua Indians who bore packs taller than they were high.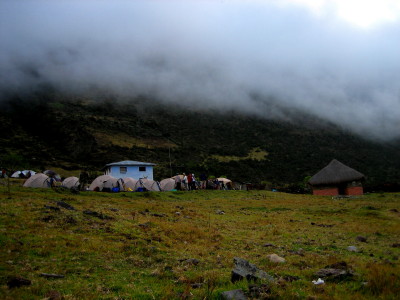 Our wranglers pitched tents in a field on the north edge of Totora. Soon every child of the village descended upon us. Dressed in rainbow colors, smiling and shy, they kept their distance at first.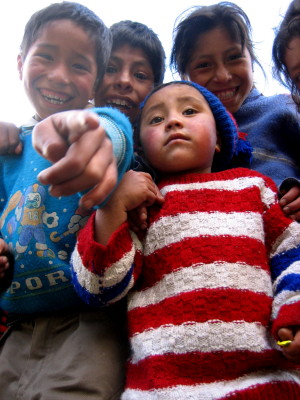 I sat on the ground so as not to tower over them and produced a digital camera, then began shooting full face shots and immediately turned the large camera display around so they could see their images. I might as well have been Santa Clause. I was swarmed, and proceeded to entertain them without end. With each picture they went wild with laughter, pointing in delight with accusing fingers at one another. The young girls covered there gaping mouths to hide giggles.
Later, after darkness fell, I pulled out my fiber optic lighted Frisbee and started throwing the glowing spidery saucer for them. They'd never seen such a wonder. They grabbed it and tossed it awkwardly to each other, and to me. It was a life changing moment–perhaps for them as well.
The next morning as we climbed away from the village, Joan asked why I hadn't given them the Frisbee. I ascended into mist and sadness, and to this day feel the pang of sorrow that I hadn't thought of that.
STONE LLAMAS- Choquequirao Terrace
"There"
I followed Curt's out stretched arm and finger pointing across the canyon. We'd been waiting on a roughly constructed observation deck in the rain wondering why we were here. The extra climb up, down, and around the far canyon to view the terraces of Choquequirao had been quite an additional effort. But when our guide, Juan Carlos, gathered us excitedly at the ruins of Machu Picchu's sacred sister to announce he'd obtained special permission for a viewing of the nearby archeological site, nearly everyone went.
Few white men had seen the new find. In fact, few modern men of any race had seen it. This discovery had been buried by the rain forest for six centuries until the discovered by the Cadastre and Delimitation of Choquequirao Archaeological Park project in 2004.
However, when the fog and rain rolled in we feared we'd been skunked.
At first I wasn't sure what Curt was pointing at, since fickle wisps of fog were playing hide and seek on the far vertical wall of jungle. Then like curtains opening in a theater for a dramatic entrance, the clouds blew away all at once, and there they were–twenty four llamas, six hundred years old, frozen in time on the high terrace walls.
The Stone Llamas of the Choquequirao Terraces.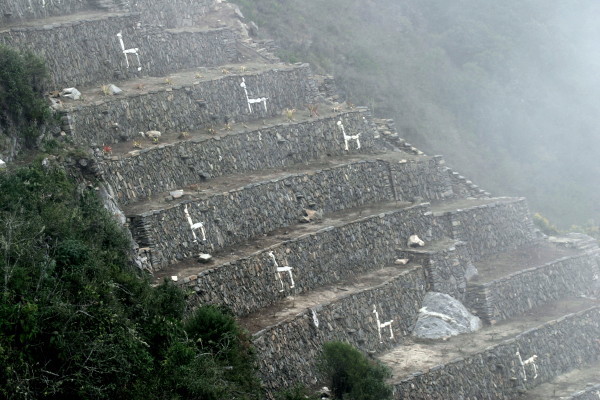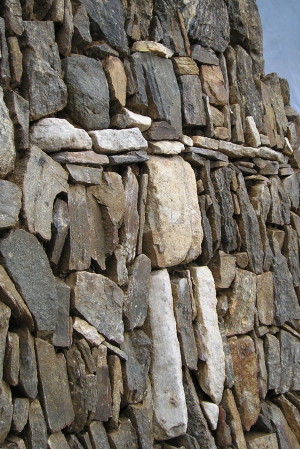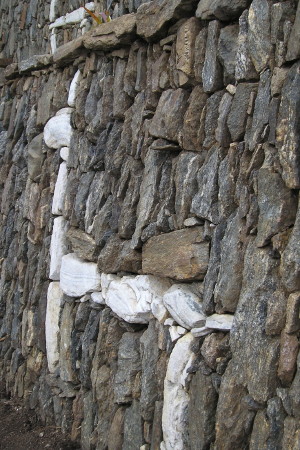 The recently excavated terrace looked like staircase built for a race of giants carved in a vertical forest wall. Within the face of each 10 foot riser were two-meter tall llama motifs made of white stone, masterfully locked into un-mortared granite by ancient Andean stone smiths. The llamas had a single herder at the base, an anthropomorph, the motif of a human also of white rock.
Thise stone shepherd had herded his flock of quartz and carbonate camelids up the dark schist walls for time immemorial, and would continue to do so for all foreseeable futures.
At that moment, my short life felt like the impermanent wisps of fog that swept with vanishing tendrils across the face of the Incan Terrace.
Choquequirao: Machu Picchu's sacred sister
The ruined Inca city, whose name in Southern Quechua means "Cradle of Gold", lay beneath me. I sat upon a truncated hill top leveled by inconceivable human toil, high above the skeletal remains of mansions that had once housed privileged administrators and artisans. I indeed saw gold in the cradle beneath me. For I had risen and climbed the trail before dawn and watched as golden drops of sunlight painted yellow swaths across the fallen city of Choquequirao.
Everything was elevated in Choquequirao, which had been the gateway to Vilcabamba, meaning "sacred valley". For the Incas, this city had been the link between the Amazon Jungle and the ruling city of Cusco.
As I sat through the Choquequirao sunrise, it became a link for me as well, a linkage to a deeper place in my heart. Archaeological descriptions running through my head, or any words for that matter, threatened to diminish what images were conveying without error. So I silenced them, and for me Choquequirao became a tale of images.
The tale of Choquequirao through images
Hore-Hey had a little lamb...
I hadn't seen it, but heard tell of a four legged member that had joined our expedition in the town of Tortora. I hadn't seen it because "the hikers" always left an hour or so ahead of the "the riders". (To the delight of most all of our expeditionaries, after Victoria pass riding was no longer a question–from there onward it was always permitted.)
Our chef George, whose name was spelled the same as in English, but pronounced 'Hore-Hey' in Spanish, also left every day an hour ahead of the group along with his assistant and a single pack pony. In that way a tent and prepared meal was set up in advance of the parties arrival at lunch and dinner each day on the trail.
Once, Dave and I conspired to keep up with George's pace since we tended to leave at near the same time.
Not a chance. They were like machines. We never saw them again after the first bend.
So it wasn't until we'd arrived at the lunch tent that I'd heard of the lamb purchased that morning in Totora. Juan Carlos and the wranglers had caught wind that Joan and I were having back to back birthdays, yesterday being hers, today mine.
Now everyone knew full well why the lamb had joined us, everyone that is, except Dave's teenage daughter, who delighted at the animals presence along the trail. But after lunch, the lamb left with George ahead of the party, never to be seen again.
Well, that's not exactly true.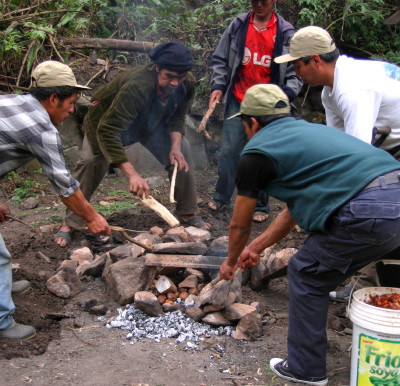 This time no meal was ready when we entered the evening camp. Instead there was a roaring fire next to a freshly dug pit, and a festive mood amongst our Quechua wrangles. I discovered the reason for the wrangle's party-like spirit upon going around a corner to see what they were up to. For themselves, they were preparing a prized delicacy from unused portions, a stew with ingredients that only the picture below should describe (reader be ware).
For us, George sat in his customary chef's hat and white smock in the middle of a blanket spread with fresh meat, potatoes, and a five gallon bucket of an Andean version of barbecue sauce.
Into the pit went rocks heated by the fire, followed by the marinated food, all covered with palms.
They tell me the meal, which was finally severed after dark, was amazing–the finest eating on the entire trip. They had to tell me this, because just prior to dinner I'd discovered tainted water or produce or something had entered my system somewhere in the previous 24 hours and caught up with me. My birthday night was spent on the pot. (Note to Dr Mathew's, thank you for sending me to Peru with a supply of Cipro antibiotics in my pack.)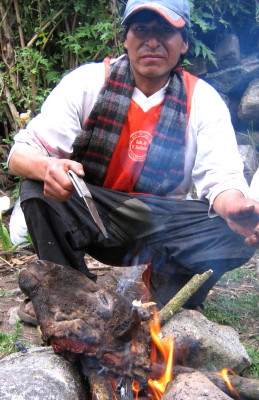 At some point in the night I heard Dave's daughter squeal at high volume from somewhere in the camp.
I supposed someone had told her what had become of her playmate from the trail.
Passing trains that have no names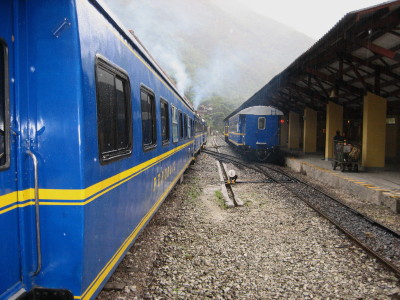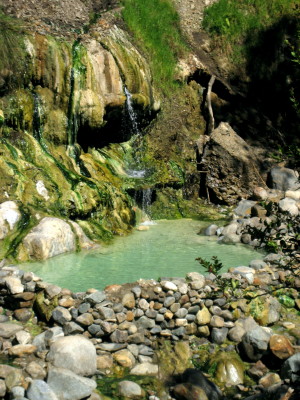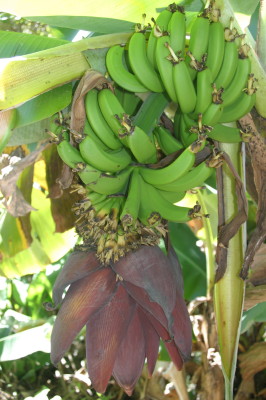 We followed the Rio Totora down through a cloud forest, then to Colcapampa to bathe in its hot springs; and finally along the Rio Santa Teresa with majestic waterfalls and flocks of redhead parrots, to camp near banana fields and coffee plantations. The final campsite afforded a spectacular panoramic view of Machu Picchu, "The Lost City of the Incas"
On the final day, our hike to the railroad tracks was one of both melancholy and exhilaration. For we descended to board a train that would remove us from the remote wilderness, a train bound for the boom-town of Aguas Calientes.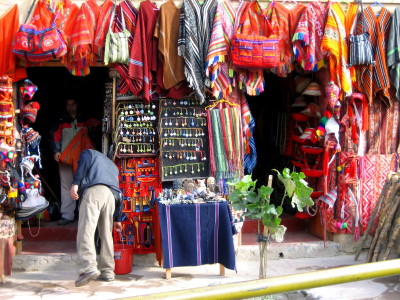 Aguas Calientes was bursting at the seams with new construction, crowds of tourists, backpackers from the more well-known and crowded Inca Trail that begins in Cusco, and latter day hippies looking for authenticity.
We'd all been looking forward to our first showers in over a week, and what better place than in a city whose Spanish name means "Hot Water".
The day was chilly and the water in our rooms was frigid.
But since that was the only disappointment of the entire journey, well, that says it all…does it not?
by Jay Archer David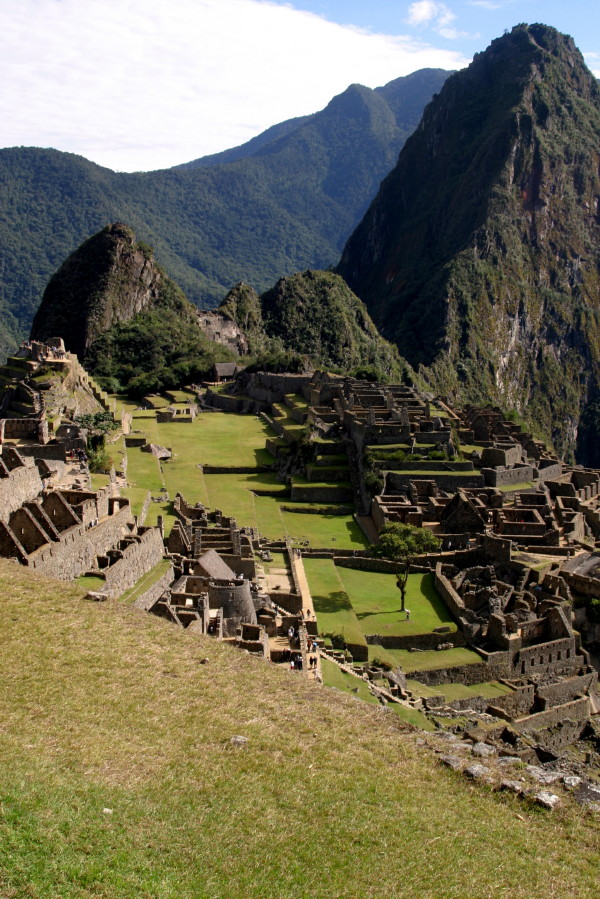 Machu Picchu Ruins explored at the end of the Choquequirao Trek
---
Videos of Choquequirao Story Teller's Tour
. . . Visit Choquequirao in videos
---
Overview:

Choquequirao Peru: remote Inca Trail past

Machu Picchu's Sacred Sister

This lesser known Inca Trail to Machu Picchu travels through dramatic glacial scenery, plunging thick forested slopes, and "old world" Peru.

It's quite unlike the crowded and better known Inca Trail that starts from Cusco.

This route takes you past the lost city of Choquequirao, Machu Picchu's sacred sister, hidden high atop the Andes in cloud forests.
Choquequirao is known as the "Golden Cradle of the Incas". It was one of the last bastions of resistance and refuge of the Son of the Sun (the "Inca"), Manco Inca Yupanqui, who fled Cusco after his siege of the city failed in 1535.

The Choquequirao Inca trail wanders through remote Quechau villages, fern covered rain forests, and high country tundra prairies of grass called Ichu, surrounded by the glacier worlds of the Salkantay Mountain Range.
Starting your trip ...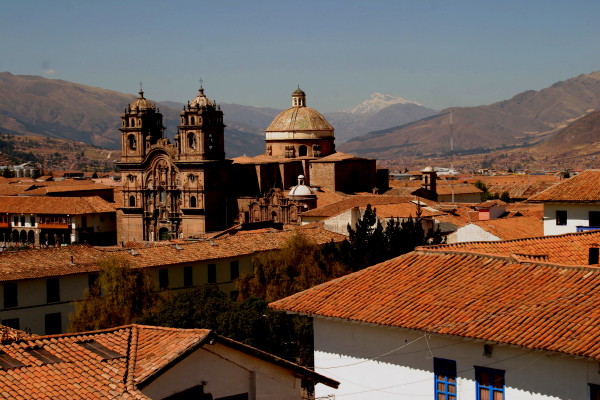 Acclimating in CUZCO - While not like climbing K2 or Mt Everest, don't kid yourself. This trip is high elevation and requires some common sense and preparation for altitude. This is especially so if you live at or near sea level. To reduce the risk of altitude sickness, it is important that you have hours of quiet bed rest immediately upon arriving in Cuzco. Cuzco's elevation is 11,200 feet. And spend a few days there engaged in non-strenuous activities, enjoying Cuzco. You'll be all the more equipped for the Choquequirao trail which varies from 11,000 to 15,000 feet in elevation.
Cusco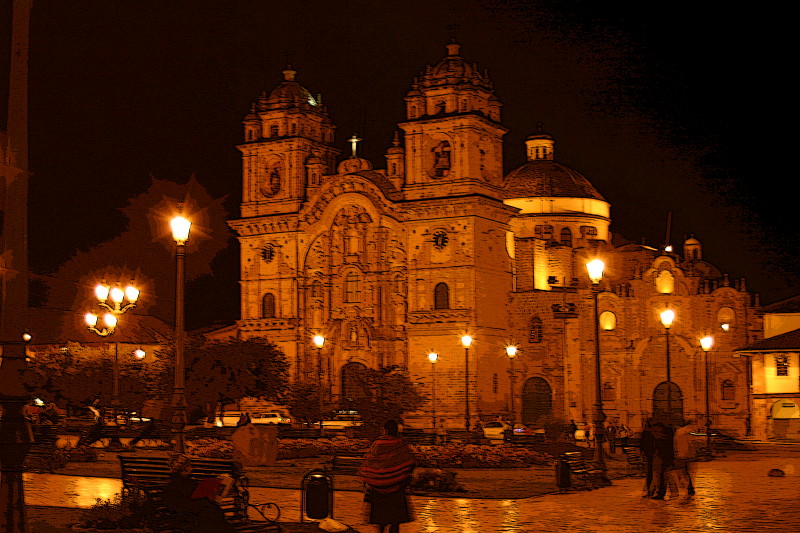 Cuzco is the oldest continuously inhabited town in the Western Hemisphere. It was the capitol of the Inca Empire, and the center of the Spanish Colonial power under Pizzaro and his Conquistadors. Evidence of both cultures abound in this city that has changed little over hundreds of years.
Plaza de Armas is the heart of the city, just as it was for the Incas. It is flanked by the Cathedral of Santo Domingo which was built in 1559 on the foundations of the Inca temple Kiswarkancha. (The location was chosen for the purpose of removing the Inca religion from Cusco, and replacing it with Spanish Catholic Christianity). It is the city's greatest repository of Colonial Art. Plaza de Armas has shops restaurants and bars occupying historic buildings. Running of the plaza is Loreto Street with Inca walls along both sides.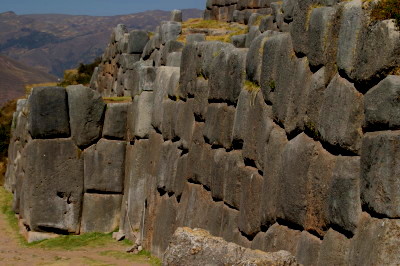 Close by is Coricancha, or Temple of the Sun, whose walls were originally covered with some 700 sheets of gold, and the courtyard front was covered with 120 pounds of gold. (No wonder the Spanish got gold-fever and psychotically dogged the poor Anasazi Indians–but that's another story.)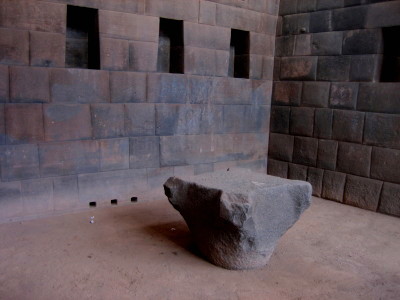 There are also important Inca ruins outside of Cuzco. Sacsayhuamàn is the most impressive in the area with stones over 300 tons. It was a great fortress overlooking the city which was retaken after the conquest by Manco Inca who almost was successful in defeating the Spanish invaders. Wenko is a large limestone rock covered with symbolic carvings, and a mysterious cave with altars in the rock, where it is believed ritual sacrifices took place. Puca Pacara and Tambo Machay are ancient baths, where water is brought through stone pipes from miles away.


Trail Guide:
The Trail to Choquequirao - The Lesser known route to Machu Picchu Machu Picchu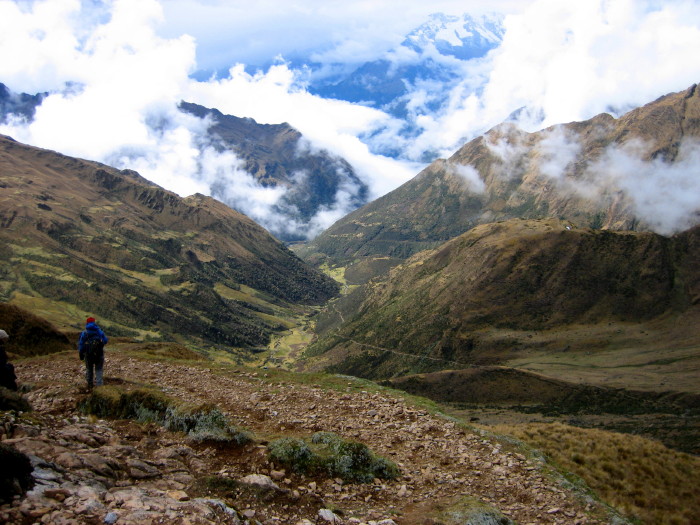 This is an expedition via obscure and difficult trails to two major ruins; Choquequirao, "The Golden Cradle of the Inca," remote and barely accessible, was the last capitol of the Incas in exile, and Machu Picchu, the famous "Lost City of the Incas." The trail passes through pastoral valleys and glaciated peaks. There are steep descents, one almost 6,600'; and an even steeper ascent of about 5,500'.

Day 1: Starting at the remote town of Cachora, the trail treks down to the might Rio Apurimac, known as the "Speaker of the Gods" in Quechau. This wild river is the initial source of the Amazon. Camp Chiquisca is at 5,905'

Day 2: Camp Choquequirao: From Chiquisca descend and cross Rio Apurimac. Stop at Maranpata for lunch. Then on to Choquequirao. Nestled in a cloud forest at 8.58', this "sister city" to Machu Picchu is similar in many ways. Abandoned for centuries, both were overlooked by the 16th and 17th century Spanish. Both are dramatically sighted, overlooking powerful rivers. Until recently the ruins of Choquequirao were covered and overgrown. Now about one-third of the known structures have been cleared.

Day 3: After Choquequirao drop down to the Rio Blanco, then along a beautiful inter-Andean valley to camp Maizel.

Day 4: This starts the trek circling around Corihuayrachina Glacier. It's peak reaches 17,602'. The trail passes through Minas Victoria, where Spanish colonials extracted silver from the mountain. It arrives at the valley of Yanama, on the slopes below Pumasillo Glacier.

Day 5: The trek to Choquequirao has led now to the very heart of the Vilcabamba range, in prairies of grass called Ichu. This day climbs up to Yanama pass at 15,100', the highest point on the trail. Then down to the village of Totara; where the camp is surrounded by the glaciers of Salcantay (20,670'), Padreyoc (19,044'), and Pumasillo.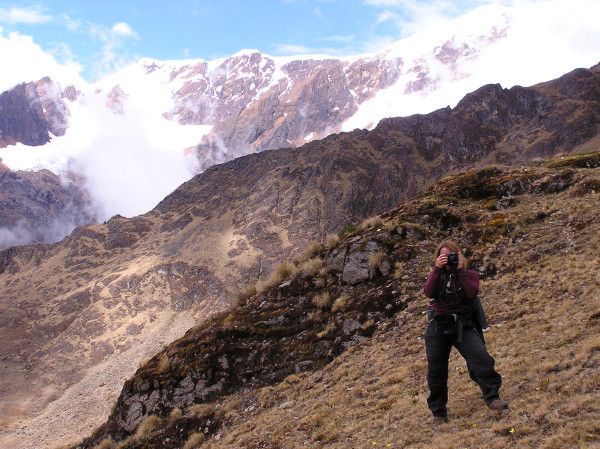 Day 6: From Totora, follow the Rio Totora down through a cloud forest, then to Colcapampa with its hot springs. From here the trail continues along the Rio Santa Teresa, with beautiful waterfalls and flocks of redhead parrots. Camp La Playa (near banana and coffee plantations).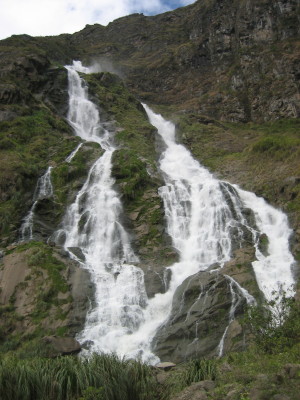 Day 7: Down the river, surrounded by plantations; then uphill to the Inca ruins of Patallaca. Here the final campsite affords a spectacular sight unique to this location: a panoramic view of Machu Picchu, "The Lost City of the Incas". Camp: Patallacta
Day 8: Continue down to the railroad and board a train for a 15 minute ride to Aguas Calientes, beneath Machu Picchu.



---
Choquequirao Trek: Topo Maps
1L Topo Map of Choquequirao Trek Map1- LOW RESOLUTION
1H Topo Map of Choquequirao Trek Map1- HIGH RESOLUTION
2L Topo Map of Choquequirao Trek Map2- LOW RESOLUTION
2H Topo Map of Choquequirao Trek Map2- HIGH RESOLUTION
3L Topo Map of Choquequirao Trek Map3- LOW RESOLUTION
3H Topo Map of Choquequirao Trek Map4- HIGH RESOLUTION
---
---
Comments
---
(back to top)