Google
Bisti Badlands and De-Na-Zin Wilderness

by Jay Archer David
The Bisti and De-Na-Zin Wilderness are strange and picturesque badlands etched out of a most unlikely and barren terrain of table-top desert.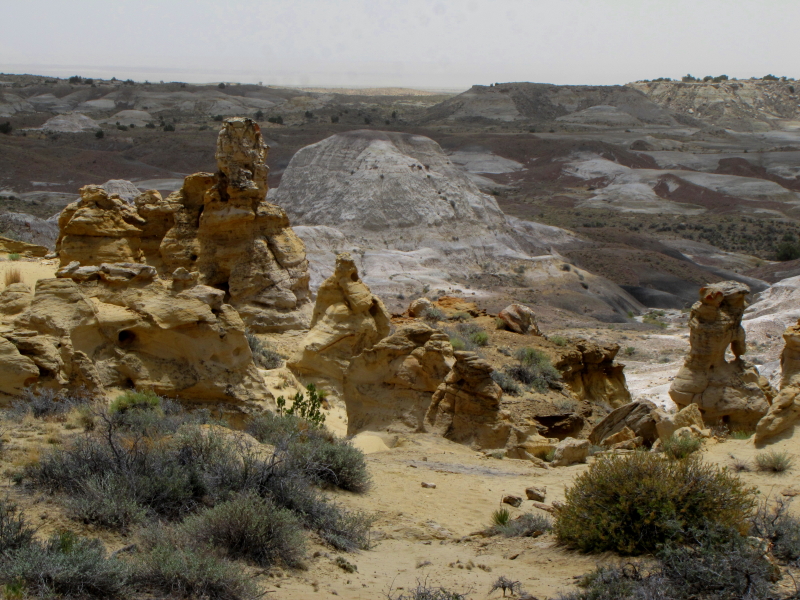 This BLM managed wilderness area is located at the edge of the Navajo Nation in northern New Mexico. Weird hoodoos, eerie vistas, and an off-world clash of colors suggest this land has a unique tale to tell.

And the story of the Bisti and De-Na-Zin begins 145 million years ago in the Cretaceous period of the earth's pre-history.
Pre-Historic Global Warming
The Cretaceous was an extended 80 million year period of Global Warming (one which mankind is not blamed for) that gave rise to eustatic ocean levels and numerous inland seas. Volcanic activity was intense spewing carbon dioxide into the atmosphere, and higher quantities of magma pushed up ocean levels so that large areas of the North American continental crust were covered by shallow seas.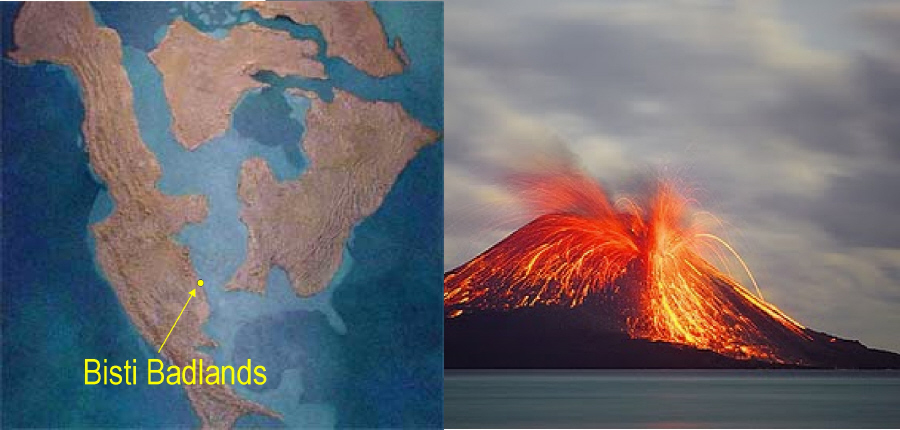 Waters were teaming with prehistoric marine animals, some exceeding 60 feet long and were nothing short of predatory monsters in the deadliest of seas.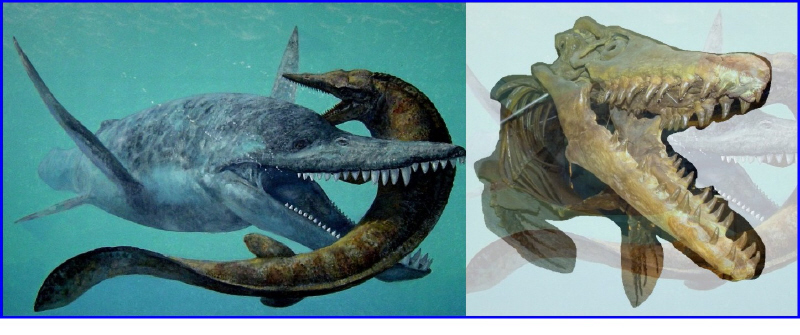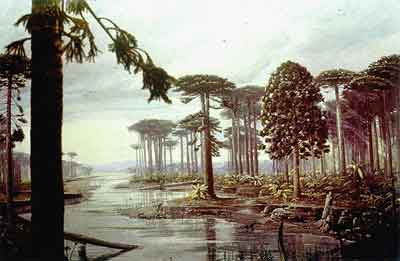 The birth of the Bisti and De-Na-Zin was at the western shores of the North America Inland Sea which was thick with strange and swampy conifer forests. The trees grew to enormous size and piled across each other as they fell crisscrossed to be entombed in layers of compacting deep mud, forming the ideal conditions for preservation by petrifaction.






In recent history, geologically speaking, a fragment of these layers were exposed by erosion in the now desert environ of the Bisti and De-Na-Zin wilderness area. Aside from amazing rock hound oddities including geodes and fossils throughout the area, many conifers now lay exposed as entire petrified trees trunks laid out for us to see, some as much as 100 feet in length.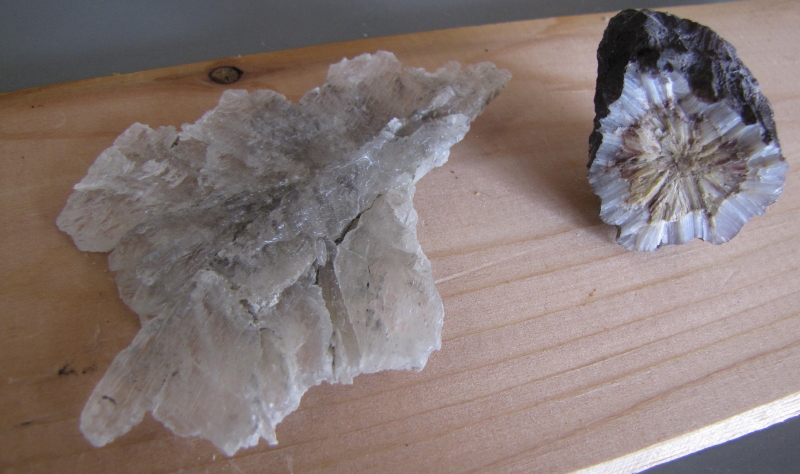 Established in 1984, the Bisti wilderness is 45 thousand acres of steeply eroded badlands managed by the BLM. In Navajo (Di'Neh), the word Bistahi translates to "among adobe formations", and De-Na-Zin is a word for "cranes" after petroglyphs of cranes found south of the wilderness.

Anasazi and indigenous North Americans have occupied the area almost continuously. The area contains numerous Chacoan sites and a section of the prehistoric Great North Road, used to connect Chacoan Anasazi sites in the San Juan Basin. Signs of contemporary use by the Indians can be found as well. Here are the remains of a Navajo sweat lodge not far from the wilderness trail head.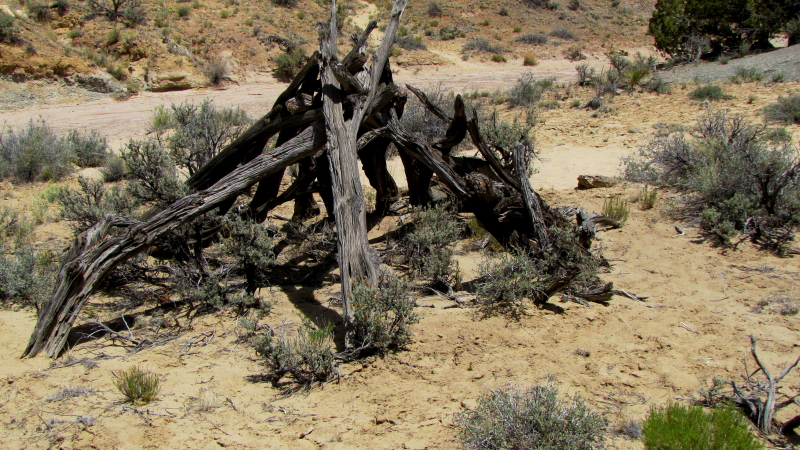 To Get There…
A short distance from the Chaco Culture National Historic Park, the Bisti De-Na-Zin is reached off NM 371 by either travelling 36 miles south from Farmington or travelling 46 miles north from Crownpoint. A wilderness sign easily marks CR 7500 that leads east on a wash boarded dirt road 11 miles to the De-Na-Zin official trail head. The Bisti is best visited separately from the west side using Road 7297.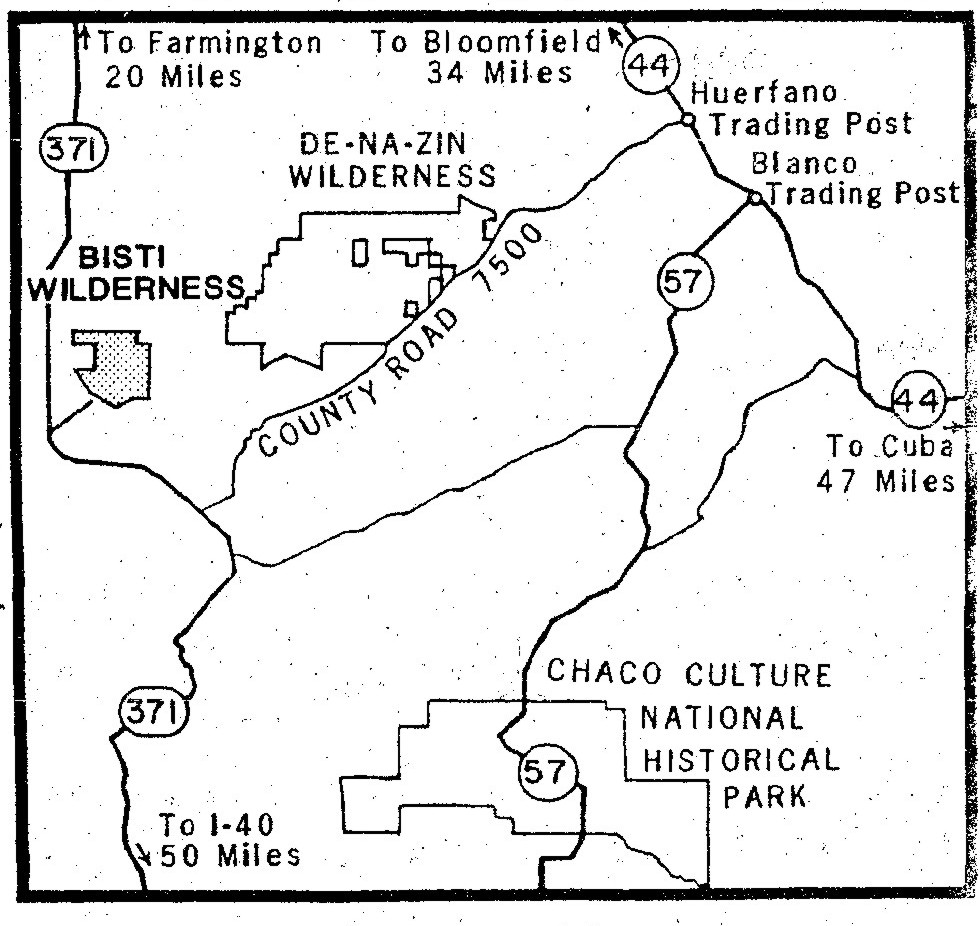 Topos and Trail Description
The DeNaZin wilderness is larger than can be explored in a day (14 miles across) and only gets several hundred visitors a year. There are no maintained trails. But there are numerous tracks from previous wanderers, though they are not reliable for any particular destination. Instead it best to become a wanderer yourself. And that is what is delightful about this park. You'll bring home a totally different set of discoveries and experiences than other explorers preceding or following you. Depending upon your zeal, you can travel rugged and folded terrain, or steer less aggressively along washes.

You may want to start from designated trail head the first time. A few sites along with some petrified wood locations are shown with markers on the De-Na-Zin section Topo Map to help you get started. From the trail-head you will follow an old jeep road north until it begins to descend (about a quarter of a mile) and then turn west and choose any descent drainage into the lower washes. Some are slightly easier than others. Smaller washes merge into each other from multiple directions presenting a confusing but exciting landscape. Eventually you may elect to follow any of the major washes such as De-Na-Zin or Alamo, or just traverse along ridges to get a better idea for the lay of the land.

There is a large plateau whose eastern edge is shown on the topo as marker 016. If you climb that, you will have vistas to help plan other areas you might wish to explorer. Also on the plateau you will find the remains of an old ranch structure.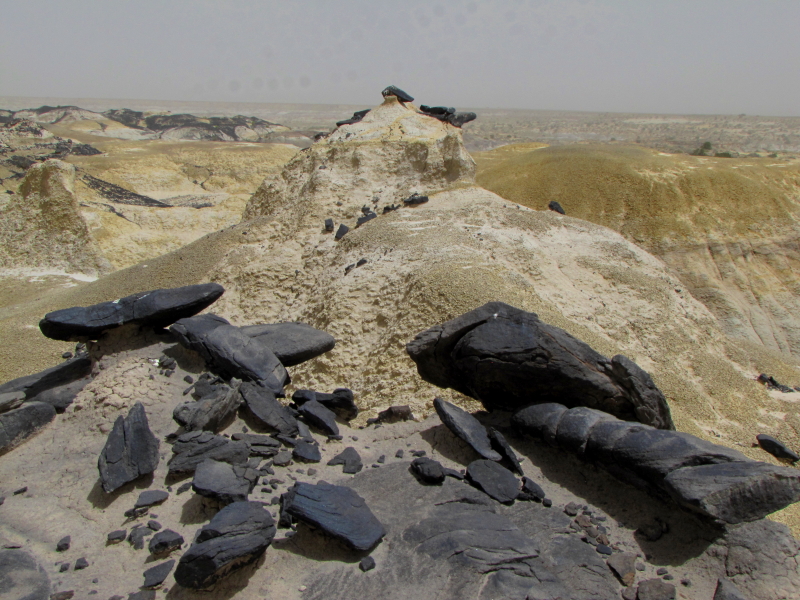 Topo Maps of Bisti Wildernes and De-Na-Zin Wilderness
Topos of the Bisti badlands and De-Na-Zin Wilderness are divide into three sections. The left, or Bisti Wilderness section, the center De-Na-Zin Wilderness, and the right side De-Na-Zin section where the De-Na-Zin trailhead is located. All three sections are given in low resolution for easier viewing on the Web, and in high resolution for detailed viewing.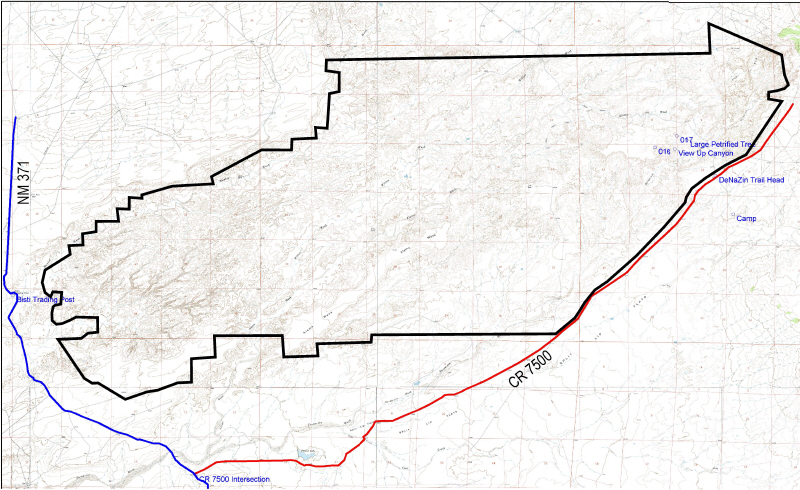 Topo Map of Bisti Wilderness Section: LOW RESOLUTION
Topo Map of Bisti Wilderness Section: HIGH RESOLUTION
Topo Map of De-Na-Zin Center Section: LOW RESOLUTION
Topo Map of De-Na-Zin Center Section: HIGH RESOLUTION
Topo Map of De-Na-Zin East Section: LOW RESOLUTION
Topo Map of De-Na-Zin East Section: HIGH RESOLUTION
---
Comments
---